With the holidays here, we took a look at our classic dishes that are always a fan favorite at the dinner table. And one that never gets turned down is dessert. Even after a filling meal, we all know there's a different part of the stomach for the sweet stuff, especially pie! And we're veering from the regular pie and making it a little more personal…with hand pies! We showed you the recipe for Apple Cinnamon Hand Pies, and here's a simple Brie and Jam Hand Pies recipe with decorative leaves on top—making them almost too pretty to eat…almost.
Brie & Jam
Ingredients
2 refrigerated pie crusts 15oz
1 egg
2 Tbsp all-purpose flour for dusting
1 tsp water
1 Tbsp sugar for sprinkling
Block of brie cheese
Cherry jam
Materials
Leaf cookie cutters
Rectangle cookie cutter
Rolling pin
Instructions
Preheat the oven to 350F degrees.
Line two baking sheets with parchment paper and set aside.
On a floured surface, roll out the pie dough so that it is 1/8 to 1/4 inch thick.
Using a 4-inch rectangular cookie cutter (or any round object that is easy to trace), cut out 18 rounds of dough. Save the leftover dough for the leaves to go on top.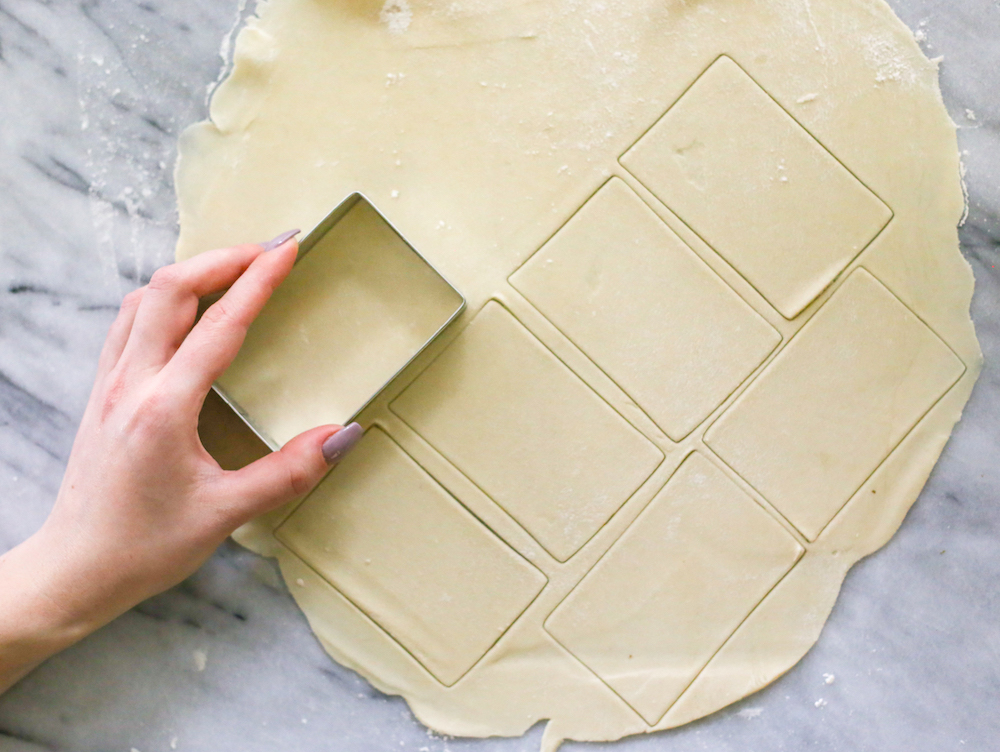 Place 9 of the rectangles of dough on the baking sheet.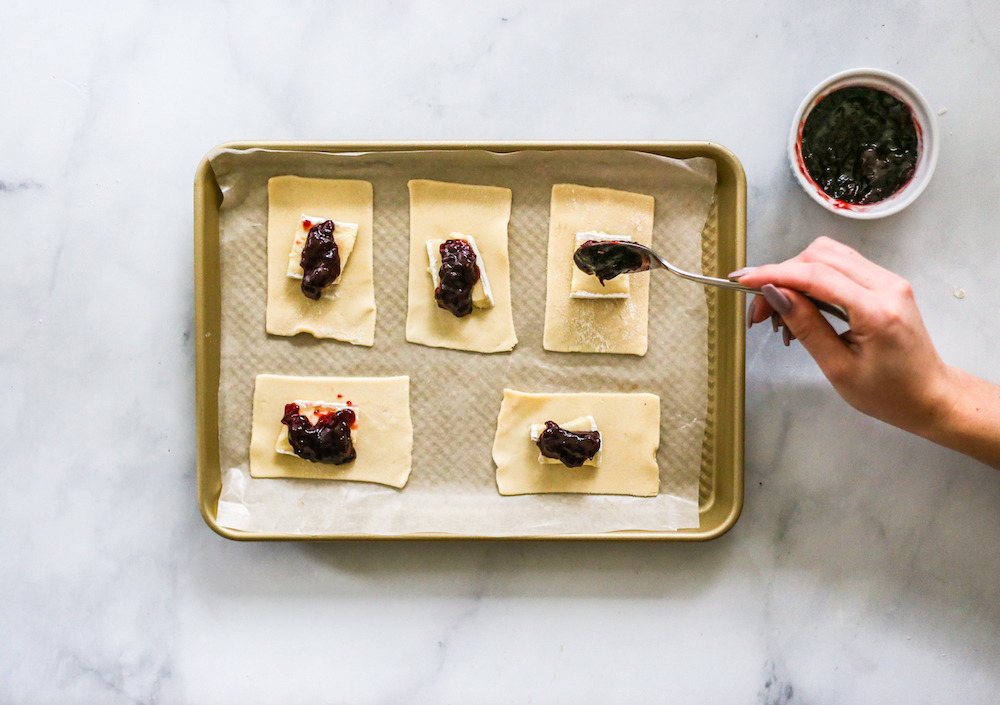 Place a small piece of brie and teaspoon of jam on the center of each of the rectangles on the baking sheet. Spread the brie and jam together using a knife, so that the filling is evenly spread throughout the pie.
On the remaining dough squares, use a knife to cut a small "X" in the middle to allow for ventilation when baking.
Place a second rectangle of dough on top of each rectangle with filling, creating a sandwich. Press down the edges to seal. Using a fork, crimp the edges around each pie.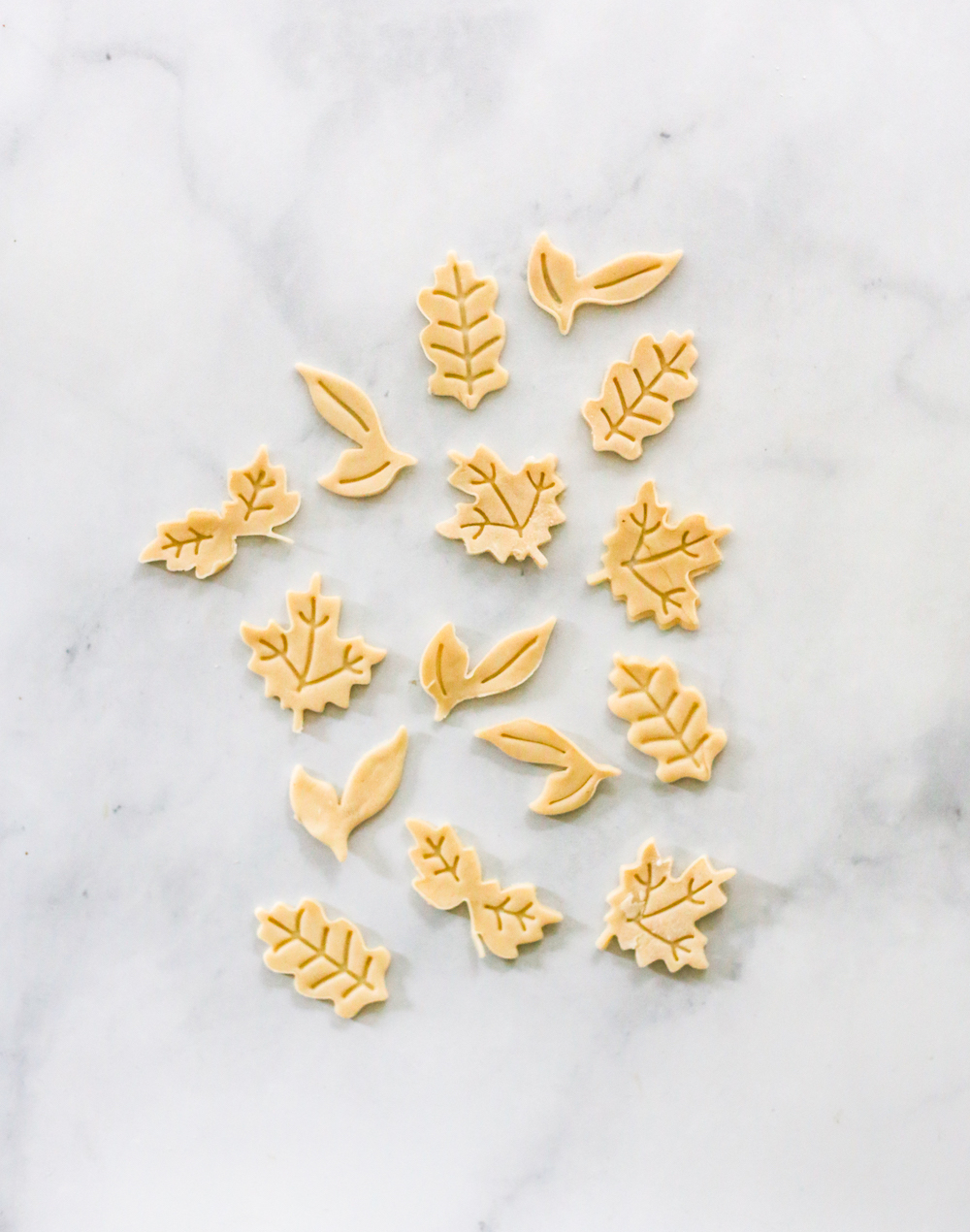 Using the leftover dough, cut out leaves with the cookie cutters. Place them on top of the pies.
Place the completed pies in the refrigerator for 20 minutes.
While the pies are refrigerating, whisk the egg with 1 tsp water to create an egg wash.
Remove the pies from the refrigerator.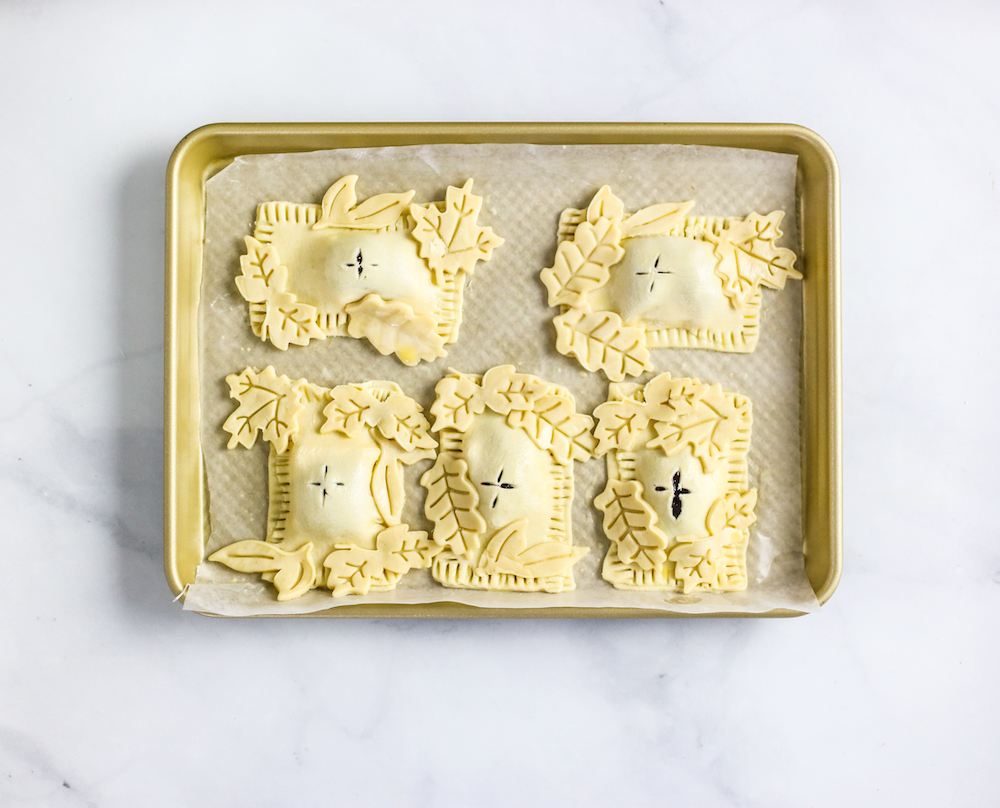 Lightly brush the top of each pie with the egg wash. Place the leaves on top, and brush again with the egg wash.
Bake the pies for 20 minutes until they are puffed up and golden. Let them cool slightly and enjoy!
And, if you're looking for crafty decor to add to your dinner setting, we've got homemade Burlap Utensil Holders that are sure to be a hit this holiday season.