In our active community, we know that everyone likes to exercise differently. We salute all those early-morning warriors who wake up before daylight to make it to their favorite class or claim a spot on the treadmill…but we also know that kind of exercise isn't for everyone. When it's all said and done, the best workouts are the ones that don't feel like a workout! If exercise is fun, we're more likely to make time for it. So we're dedicated to not only creating great fitness programs, but also fantastic activities. Check out some of our favorite ways you can get active, get fit, and have fun…all at the same time!
Reach and Rise: Rock Climbing
Rock climbing is a perfect indoor activity to try if you want to move your body and challenge your mind. And we're lucky enough to have two climbing centers at our Portland and Pleasanton locations! With different courses and routes available, you'll be able to try a new climbing sequence each time. We have courses that are suited for all levels and ages. If you're new, our experienced associates will walk you through the gear and the safety practices.
Plus, anyone who has rock climbed before will warn you that you may not be able to lift your arms the next day (hello, back muscles we didn't know existed!)
You can learn more about our climbing centers here.
Jump Around: Trampoline Time
Trampolines might remind you of summer fun as a child, but we're here to tell you they are making a big fitness comeback. Great for challenging your cardio and building endurance, today trampolines are very in vogue in studio fitness. And while we love those giant outdoor, netted trampolines, you can also get all the benefits (and fun!) of jumping with a smaller indoor version. We do recommend getting primed on the safety protocols before bouncing!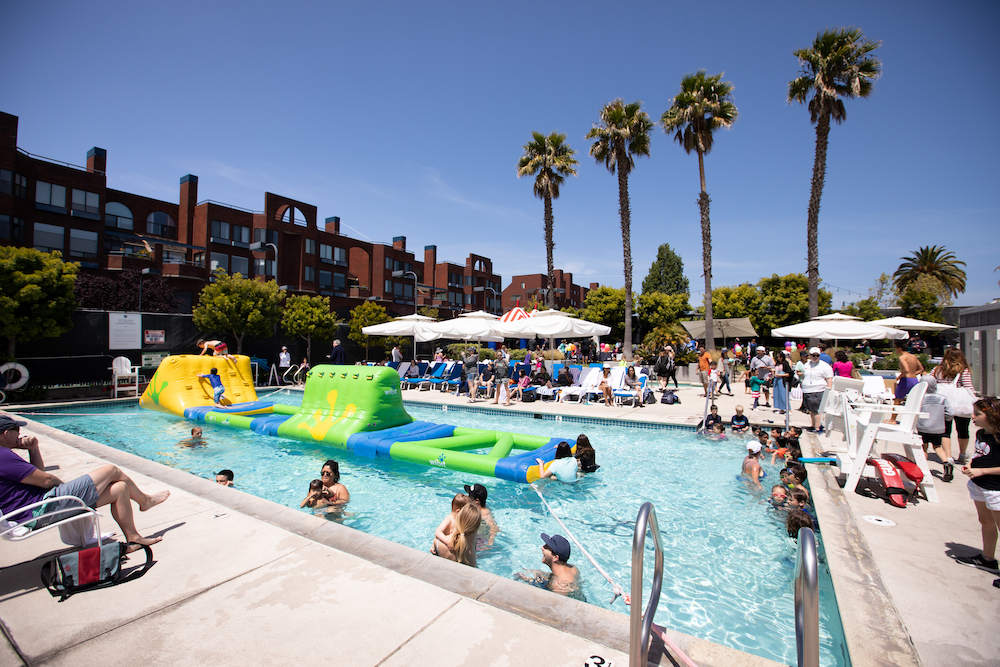 Race to the Finish: Obstacle Courses
Obstacle courses have made a real name for themselves in the fitness world, with outdoor team events playing off themes of "battling the elements." But you don't have to crawl through mud to explore the world of obstacle course fun. In fact, our kid-favorite Wibit, takes obstacle course fun off of dry land and delivers the same experience in the pool! Little ones love this bounce-house built for the water, which feels like their very own "water world" obstacle course.
If you're an adult and want to get in on the fun, we've also got obstacle course training at Bay Club Fremont and Pleasanton that will prepare you for race day while also getting you in great shape! You'll learn to climb ropes and scale walls, build strength with sandbags, and even practice your aim by throwing a spear!
Find the Wibit in our clubs all summer long!
Practice your putt-putt: Mini Golf
We know lots of Bay Club members love spending a day on the golf course. But sometimes you don't have a full day to dedicate to the greens, or your 5-year-old is dying to join in on the experience. Enter: mini golf. Practice your hole-in-one in just an hour or two with a round of family-friendly mini golf. It's a great way to get outside and instill a beginner's appreciation for the game. You can also explore the growing trend of indoor mini-golf courses sprouting up around California (a great solution for year-round green courses in a drought-prone state).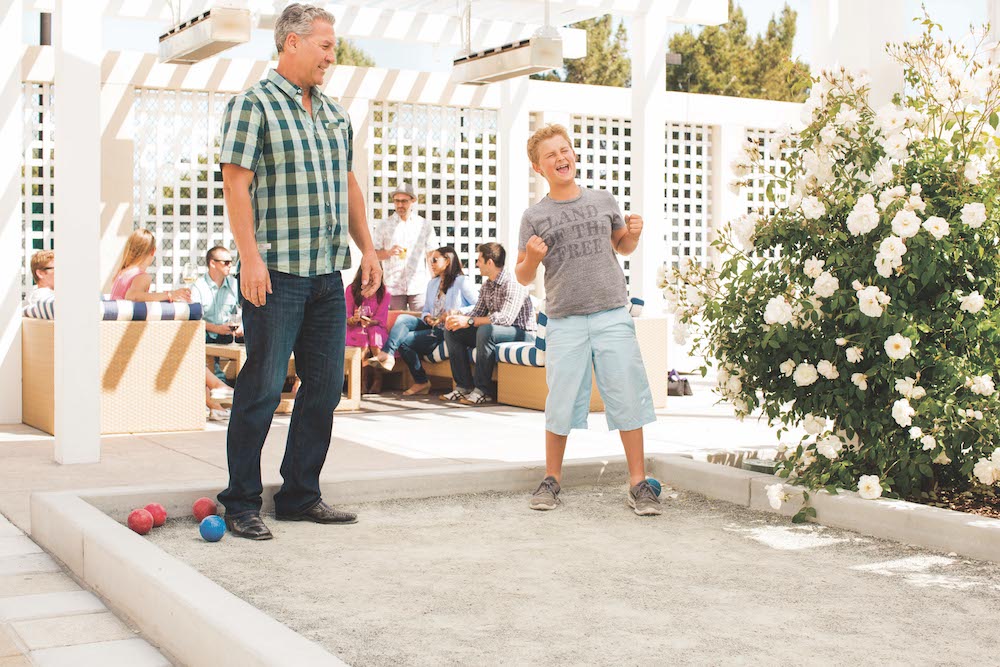 Have a ball…while playing Bocce
Bocce is a great way to socialize while having a little fun competition. Our members love playing bocce on a warm summer evening, either with the kids or a glass of wine (or maybe both). It's a game that's inviting to all ages and athletic abilities, and it's usually accompanied by a meal al fresco—that's something most of us can get it into! Find bocce ball at several of our Bay Club locations.
Take your exercising off the fitness floor this summer! We've got rock climbing, bocce, and so much more at the Bay Club. Learn more about all of our clubs and amenities here!