If there's one thing we've learned about our Bay Club personal fitness trainers, it's that they're early risers. You may have seen our previous feature on Kristina Alai, and this week we're excited to feature another popular personal trainer, Vishal Kumar from Bay Club Redwood Shores.
Waking up with Water
Vishal is an early morning person, waking up most days at 5:30 am. "My morning routine is fairly quick since I have clients early," he says. "But I always make sure to hydrate with some combo of water, salt, apple cider vinegar and some basic vitamins. Then I'll do a quick mobility scan of my body to see how I'm feeling."
Breakfast "Boost"
Not surprisingly, nutrition is also an important component of his morning routine. In addition to hydrating right away, Vishal is a big believer in giving his body a break from digesting hard foods first thing in the morning. "I'm currently on more of a fasting phase which I'll typically do to dial in my gut health and I just feel so much better."
Instead of something healthy but heavier, like an omelette, Vishal opts for a blend of "complete coffee"—a mix of coffee, collagen protein, and MCT oil. "It has everything I need to get my day started." We actually think this sounds delicious—but might like it even more if paired with a croissant!
Morning Mission
"I typically work with private clients from 6:30-12pm and I train them for 1 hour." And Vishal makes sure to use every minute of that hour, focusing on building a good physical foundation for each client, as well helping them see the results they're looking for.
"I focus a lot on mobility and movement training. My goal is have clients feel strong and confident with themselves in their body with whatever they need to use it for. The foundation for that is first having an able body so I'll target that first before moving forward with any other type of training," he says.
Keeping Clients on Track
"Since I have a wide range of clients and the amount of times they train with me varies I track progress through their programming which shifts every 6-8 weeks depending on the client. We often set certain strength goals, and I'll also take videos of certain movements and compare them in following weeks, so I can see what's improving and what we still need to work on."
Vishal also makes sure to keep fitness interesting for clients. He loves to mix up the types of exercises, creating a well-rounded workout for each session.
"If I had to categorize the training it would be mobility, skill, strength and conditioning in one session. My approach is built for longevity."
Fueling for Fitness
Vishal's training isn't the only approach he has developed for longevity. His nutrition is balanced but not boring, and he makes sure to fuel with enough of the macronutrients he needs to keep going throughout the day. 
"My first actual meal will be between 12 and 2pm, and it usually includes of eggs, sardines, veggies and greens. My next meal in the later afternoon, which might be after some sort of strength session, is typically a mix of rice, veggies and protein."
"Every Coach Needs a Coach"
While Vishal loves to help clients reach their goals, he's also dedicated to setting and reaching new goals of his own.
"My current movement practice involves a lot of modalities and I actually have a coach and group of people I train with about 5-7 days a week. I believe every coach needs a coach because in order to best serve others you must also serve yourself." He focuses on a range of training styles, including joint mobility work, rhythm, balance, gymnastics strength, locomotion and conventional barbell strength training.
"Between training clients and keeping up with my own training, I don't have much free time," he laughs. "But I wouldn't have it any other way."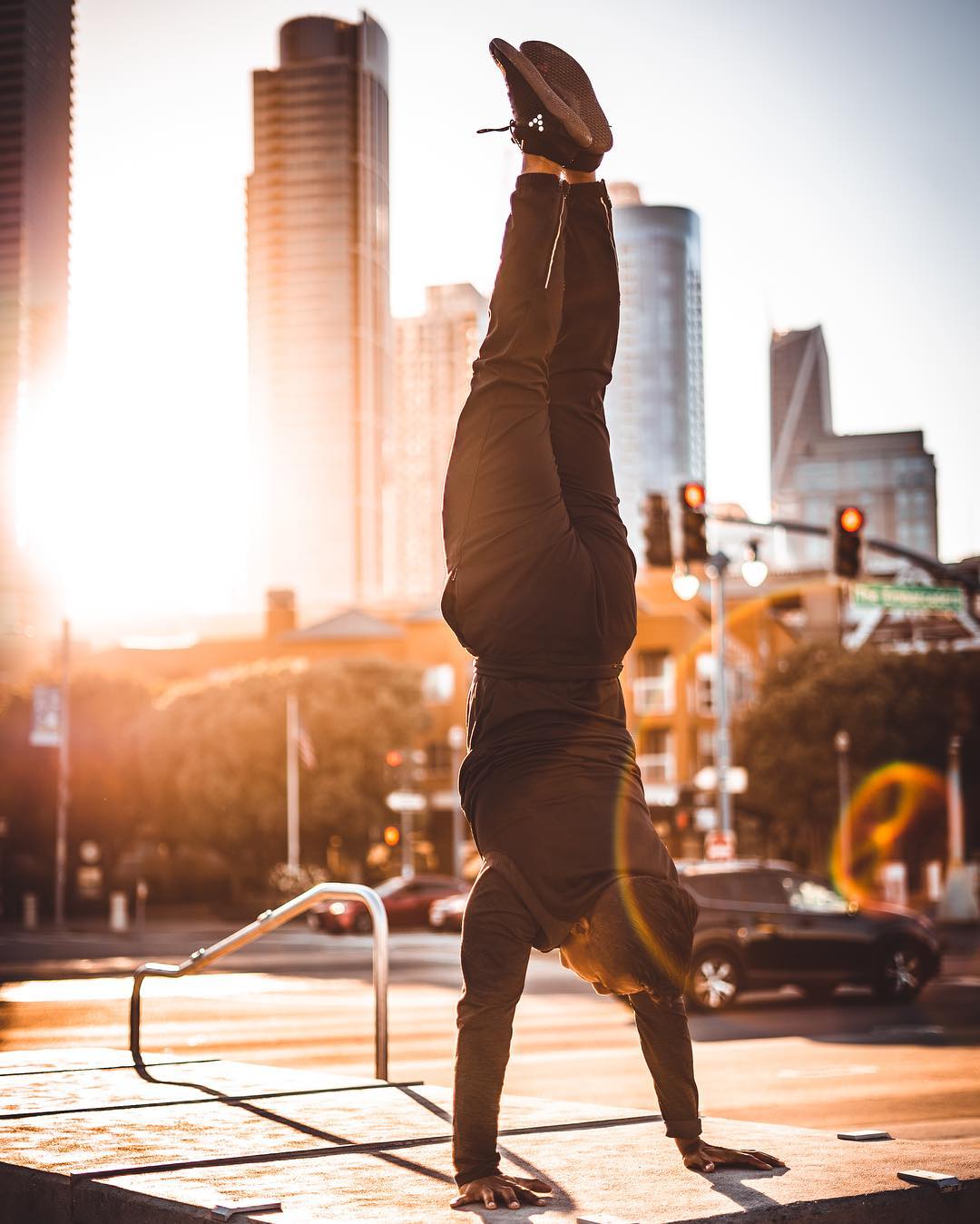 When the Day is Done…
"My days typically finish pretty late," he admits, "so to wind down I do a couple of things that I enjoy. My dinner is usually a high protein and moderate veggie mix, so I'll make whatever combination I'm in the mood for that night. Then I'll make some sort of tea that helps to calm the nervous system. I love Four Sigmatic's Reishi tea. I like to decompress by reading a few pages of whatever book I'm currently into… right now it's Homo Deus by Yuval Noah Harari." 
Believing in His Work
"At the end of the day I love what I do because the human body is fascinating. I enjoy sharing the lessons and experiences I've had to help others in their pursuit of better fitness. Of course, health is more than just our physical body, but the more in-tune and connected people feel with their physical self, the better everything else becomes. Being part of that powerful self-improvement is very rewarding for me."
If you're looking to improve your mobility, strength conditioning, or need help setting (and reaching!) your fitness goals, look no further than Vishal. You can book your private appointment with him through email at Vishal.Kumar@bayclubs.com.