Santa's already made his list, and he's checking it for the second time—and that means, Christmas is near! One of our favorite Christmas traditions is to leave cookies out for Santa, but what about the reindeer? This reindeer food is perfect for Dasher, Dancer, Prancer, and Vixen, and the others (can you name them all?). Here's a fun DIY to do with your little ones to make sure Rudolph is well fed for the long journey ahead!
DIY Reindeer Food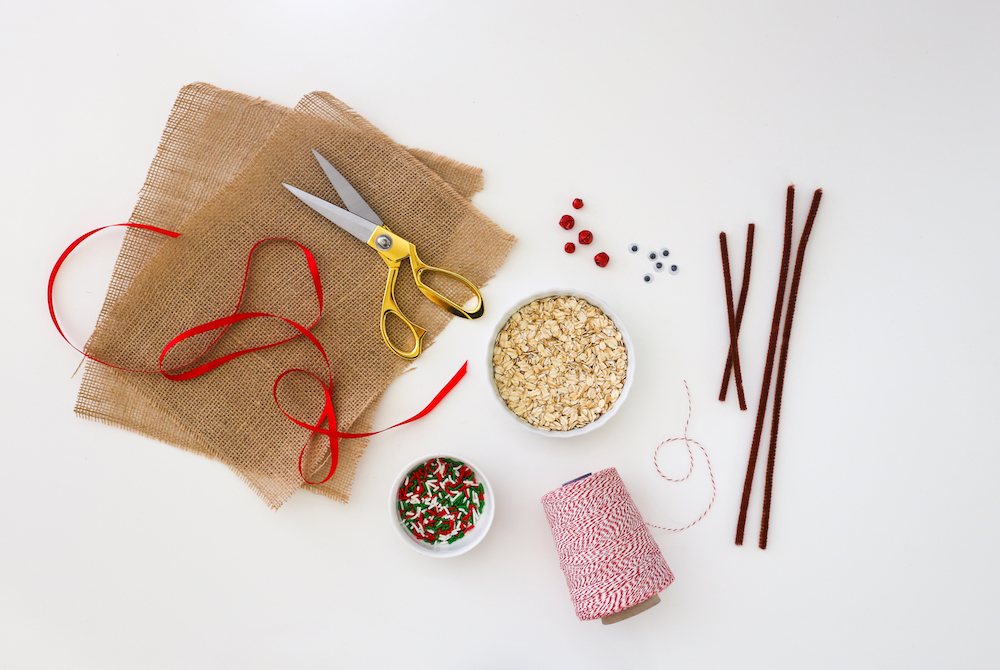 Tools
Oats
Red & green sprinkles
Clear plastic treat bags, 3″ x 6″ or 4″ x 6"
Baker's twine
Scissors
Super glue
Burlap fabric
1/4″ red satin ribbon
Googly eyes
Mini red jingle bell
Brown pipe cleaners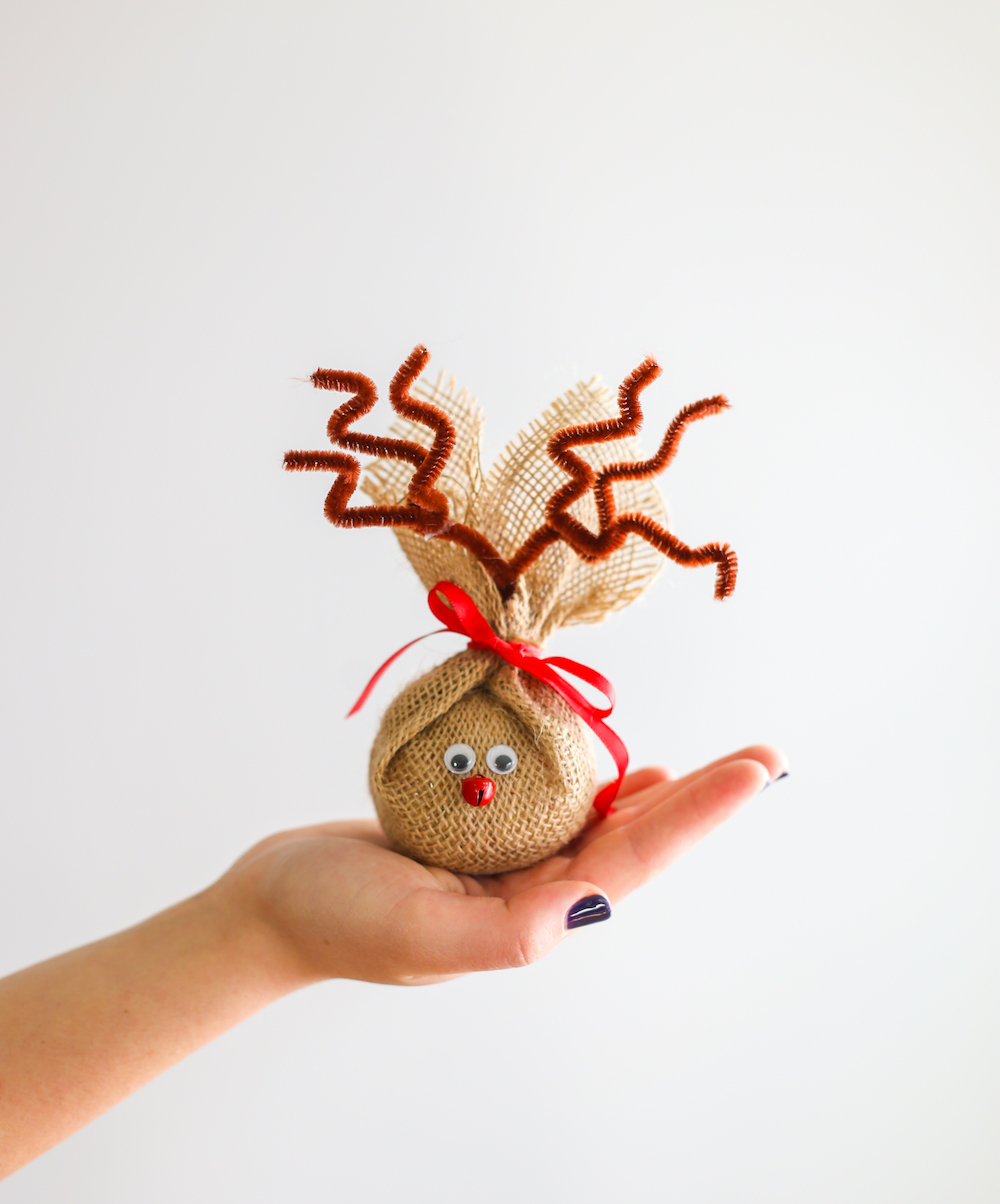 Steps
Make the reindeer food by combining oats and sprinkles in a bowl.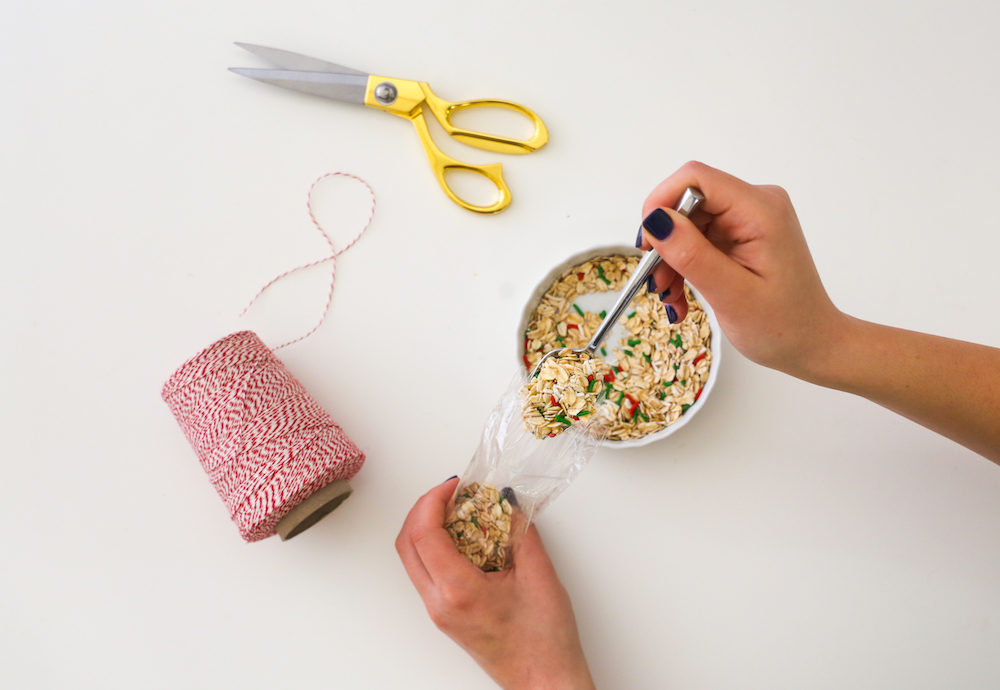 Fill the plastic treat bags about half way, and tie with baker's twine.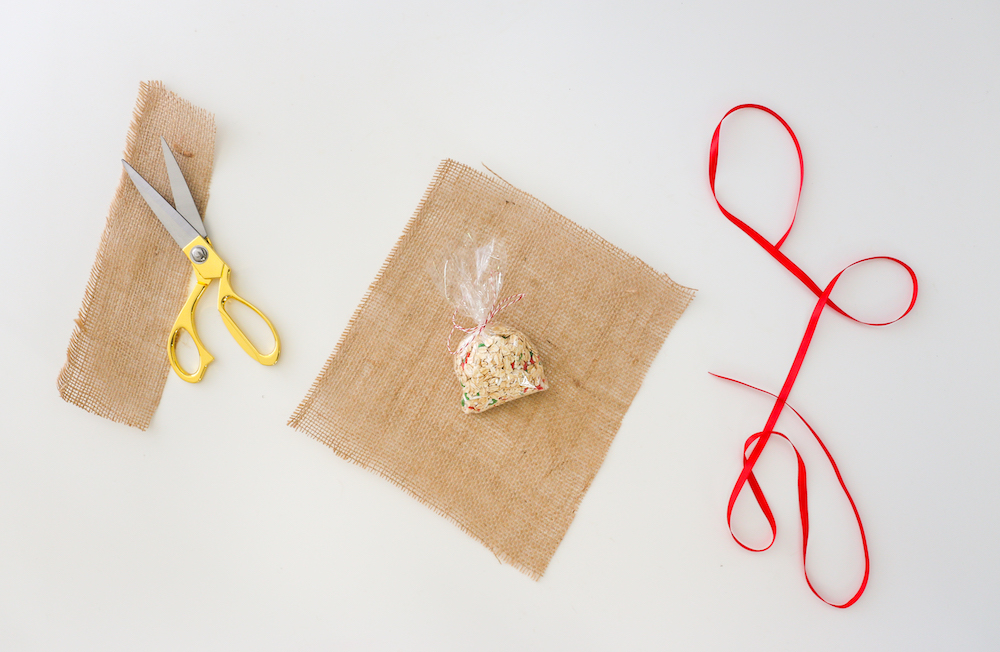 Cut burlap fabric into a 10" x 10" square, and place the treat bag of reindeer food in the middle of the burlap.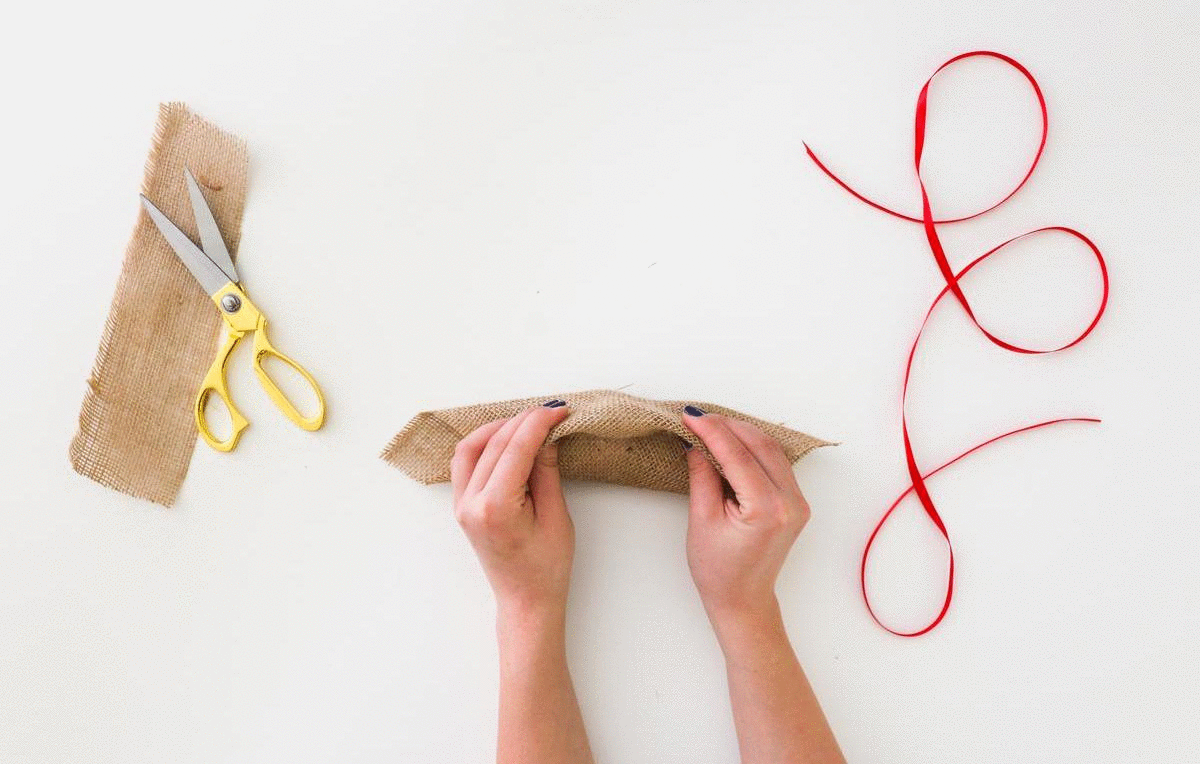 Bring two diagonal corners of the burlap to meet in the middle over the treat bag, and roll the fabric down (as you would with a paper lunch bag). Then, fold the other two corners over the middle (these corners are the reindeer ears!).
Use the red ribbon to hold the ears in place, and tie a bow.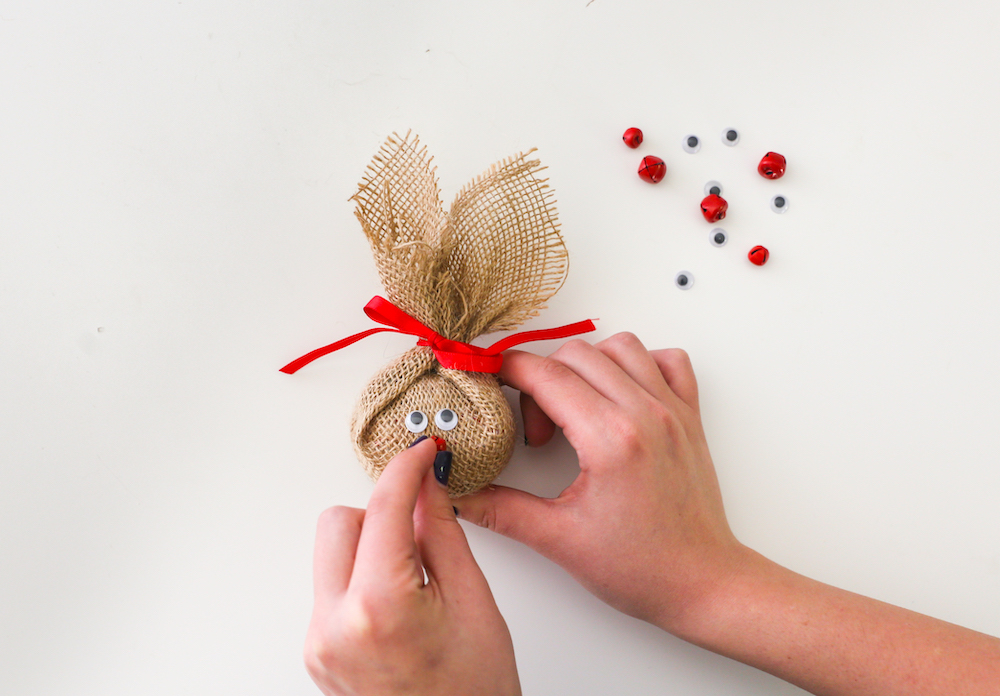 Glue the googly eyes and jingle bell on one side of the burlap to make the reindeer face.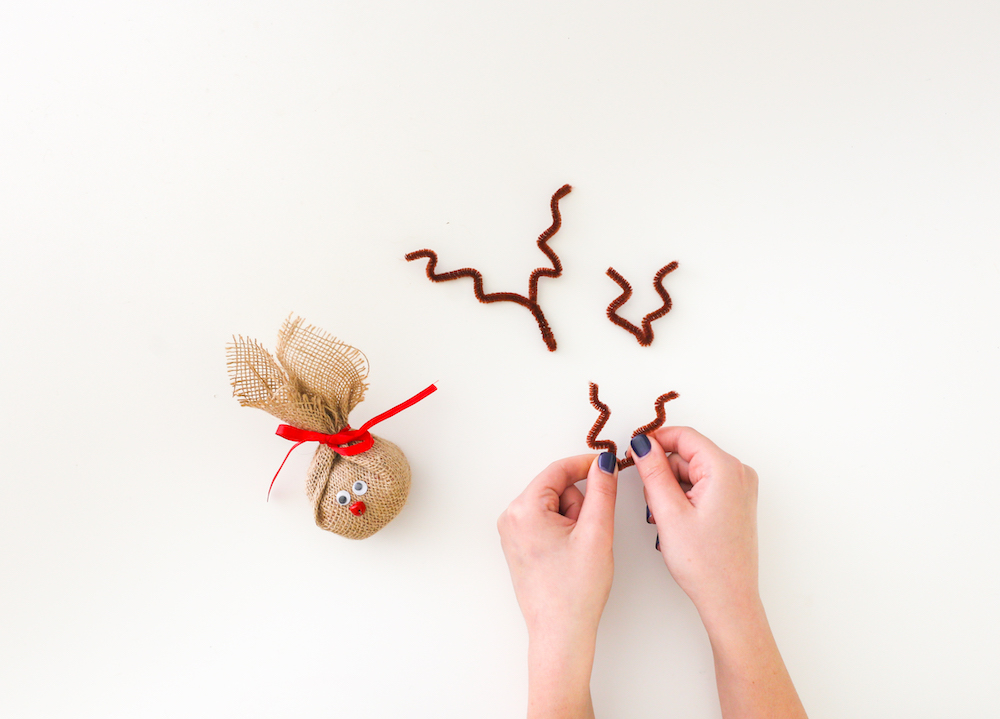 To make the antlers, take one 12 inch pipe cleaner and bend it in half. Twist the bottom two inches from the folded ends. Then bend the top two ends into a zig-zag.
Cut another 12 inch pipe cleaner in half to make two 6 inch pipe cleaners, and bend those in half, and create zig-zags.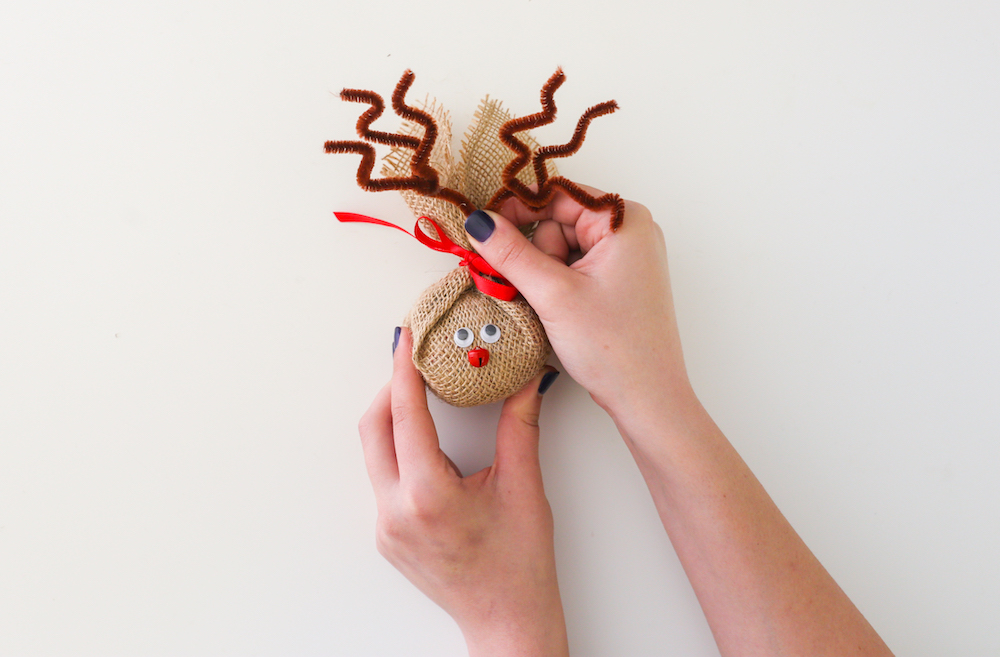 Glue the two smaller antler pieces to the larger one, then insert in between the reindeer ears.
Just sprinkle the Reindeer Food outside, and Rudolph will have no problem guiding the sleigh to your home! Look for more fun seasonal DIYs on One Lombard, and Instagram!