We're in prep-mode for making sure we have the nutrition, and key ingredients to get us through a few weeks. We talked to Health Coach, Molly Alliman by Balance by Molly about the items she always has in her fridge! Check out her non-negotiables when it comes to what's stocked in her fridge below—not only because they are tasty, but because she uses them in her daily life too! 
My journey with nutrition began by removing most processed foods from my diet and began eating more food made with whole and real ingredients. By making these simple steps I noticed changes in my digestion, sleep, and energy. So now, I always make sure to have these simple, whole foods stocked in my fridge so I am always feeling my best.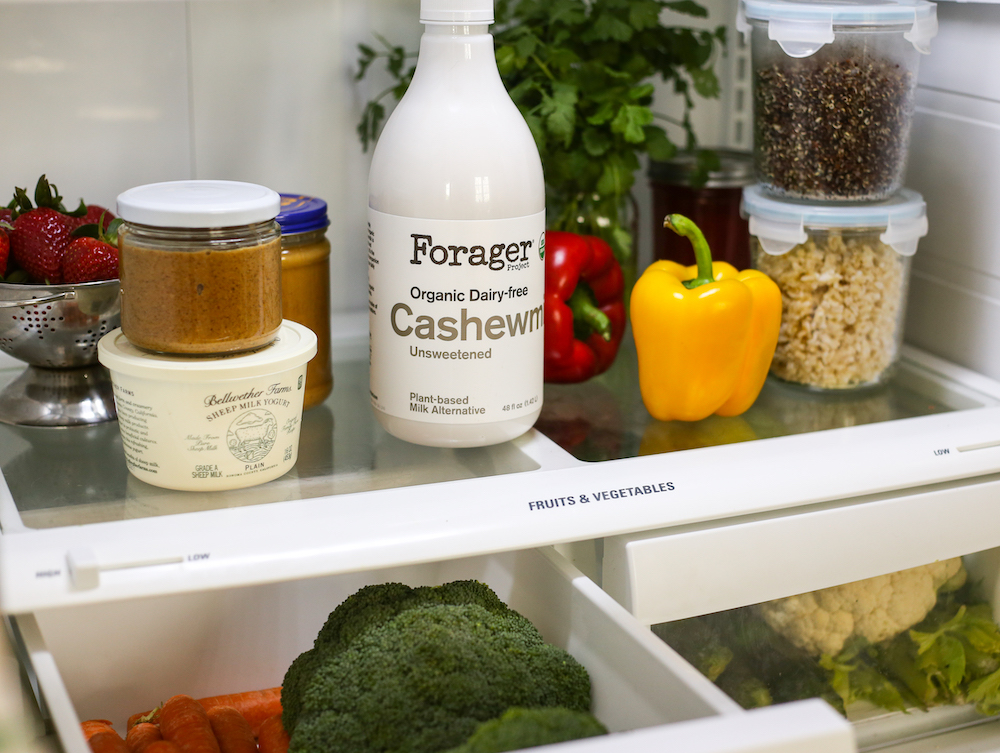 Cashew Milk. I like the flavor better than almond milk because it has a milder flavor. I use cashew milk in my daily smoothies or oats in the morning. It is so versatile and easier on my digestion than cow's milk.
Fresh Vegetables. I always have a variety of 2-3 fresh fruits and veggies. Right now, I have zucchinis, bell peppers, and broccoli. I use zucchini to slice and freeze for my daily breakfast smoothies (I change the combination daily but zucchini adds a nice texture without being able to taste it). I love bell peppers because they add a variety of colors, (and therefore nutrients!), and I eat them raw dipped in hummus or sautéed in a simple burrito bowl with onions over white rice, black beans, and guacamole. Broccoli is my go-to vegetable for easy pasta dishes and alongside roasted chicken or salmon for dinner.
Sheep or Goat's Milk Yogurt. These types of yogurts have lower amounts of lactose and casein (sugar and protein in dairy which can digestive issues) which are great for those like me who are sensitive to cow's milk. I love eating yogurt as an afternoon snack with berries and I also swap out mayo with yogurt when I make tuna salad sandwiches, which is often because I absolutely love it and it's a great source of protein!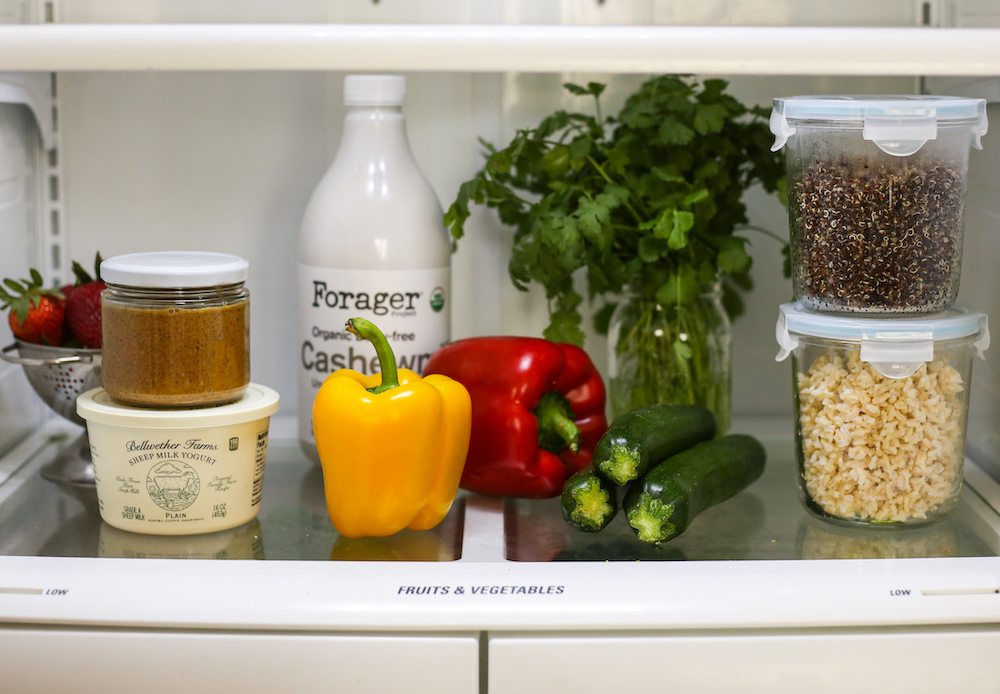 Nut Butters. Almond, Peanut and Cashew butter are currently in my fridge. I spread these on sourdough or sprouted wheat toast, dip dates in them for a dessert, add to smoothies and even use for baking!
Cooked rice and quinoa. I always batch cook my grains so I have them on hand to heat up on busy days when I am too hungry to wait the 30 minutes to cook. I use pre-cooked brown + white rice or quinoa in grain bowls with a veggie and protein for dinner or I toss into salads for lunch.
For more nutrition tips, and to see what Molly has in her pantry, follow us on Instagram.