To us, nothing says summer like a backyard BBQ—and we're coming close to the unofficial end of summer as Labor Day weekend is right around the corner. But there's always time for a final BBQ to close out a great season with friends and family. We've narrowed down our menu to three of our favorite fresh and seasonal recipes, plus the best type of wine to pair with them. So sit back and relax and enjoy a perfect Labor Day weekend with three delicious recipes: Grilled Peach and Arugula Salad, Lemon Herb Grilled Salmon, and an Heirloom Tomato Flatbread—you've earned it!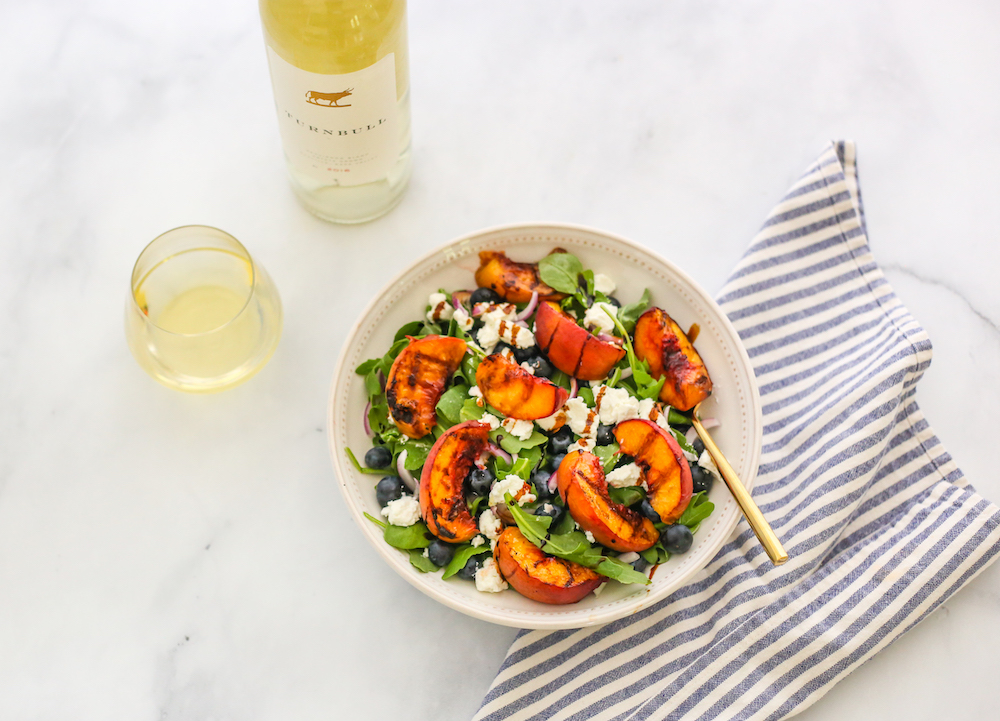 Grilled Peach & Arugula Salad
We paired this with Turnbull Sauvignon Blanc
Serves 2
Ingredients
5 oz baby arugula
2 peaches, sliced
1/4 cup fresh blueberries
1/8 cup red onion, sliced
1/8 cup crumbled goat cheese
1 Tbsp balsamic vinegar
1 Tbsp extra virgin olive oil
Salt and pepper to taste
Directions
First, make the vinaigrette by whisking olive oil, vinegar, salt, and pepper in a small bowl. Set aside.
Preheat your grill to 450F. Brush the peach slices with olive oil.
Grill the peaches for 4-5 minutes per side, until they have grill marks.
Place arugula, peaches, blueberries, red onion and goat cheese into a large bowl. Add vinaigrette and toss well.
Dig in and serve with Turnbull Sauvignon Blanc!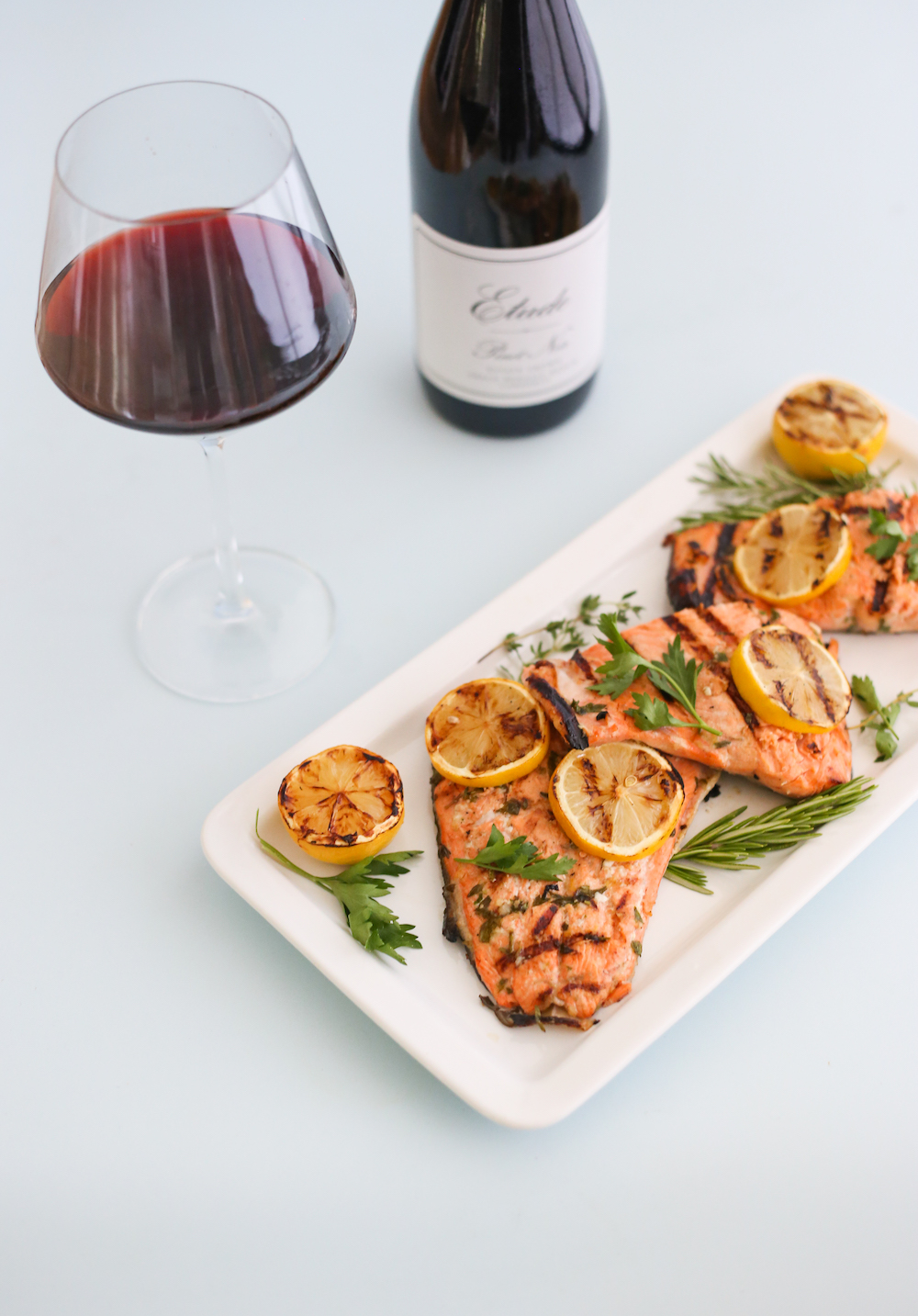 Lemon Herb Grilled Salmon
We paired this with Ètude Pinot Noir
Serves 2
Ingredients
2 salmon filets (1 to 1 1/2 inches thick)
High heat oil for the grill (canola or olive oil)
For marinade
1/8 cup olive oil
1/8 cup lemon juice
Zest of 1/2 lemon
1 tsp thyme, minced
1 tsp rosemary, minced
1 Tbsp parsley, minced
1 clove of garlic, minced
1/2 tsp dijon mustard
1/2 tsp honey
Pinch of salt and pepper
Directions
Whisk together the marinade ingredients in a small bowl.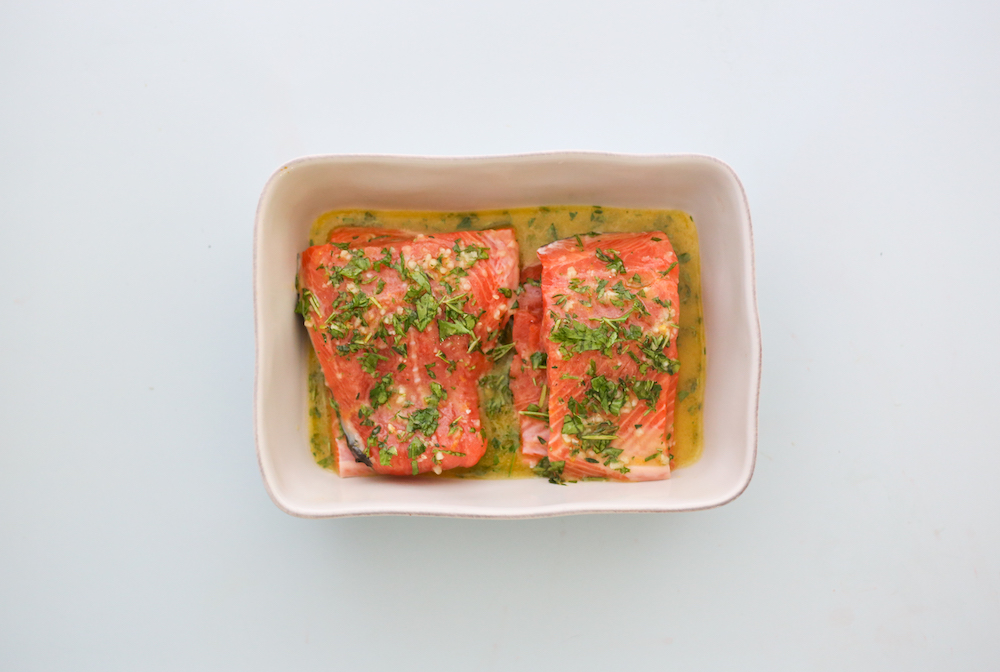 Place salmon fillets in a dish and pour the marinade over them, making sure some gets underneath the fish as well. Cover and let sit in the refrigerator for 30 minutes.
Preheat grill to 375-400F.
Oil the grill grates with a spray or by brushing oil onto them.
Place the filets diagonally across the grill grates, skin side up, and cook for about 5 minutes.
Flip the filets over using a spatula and cook for another 4-5 minutes.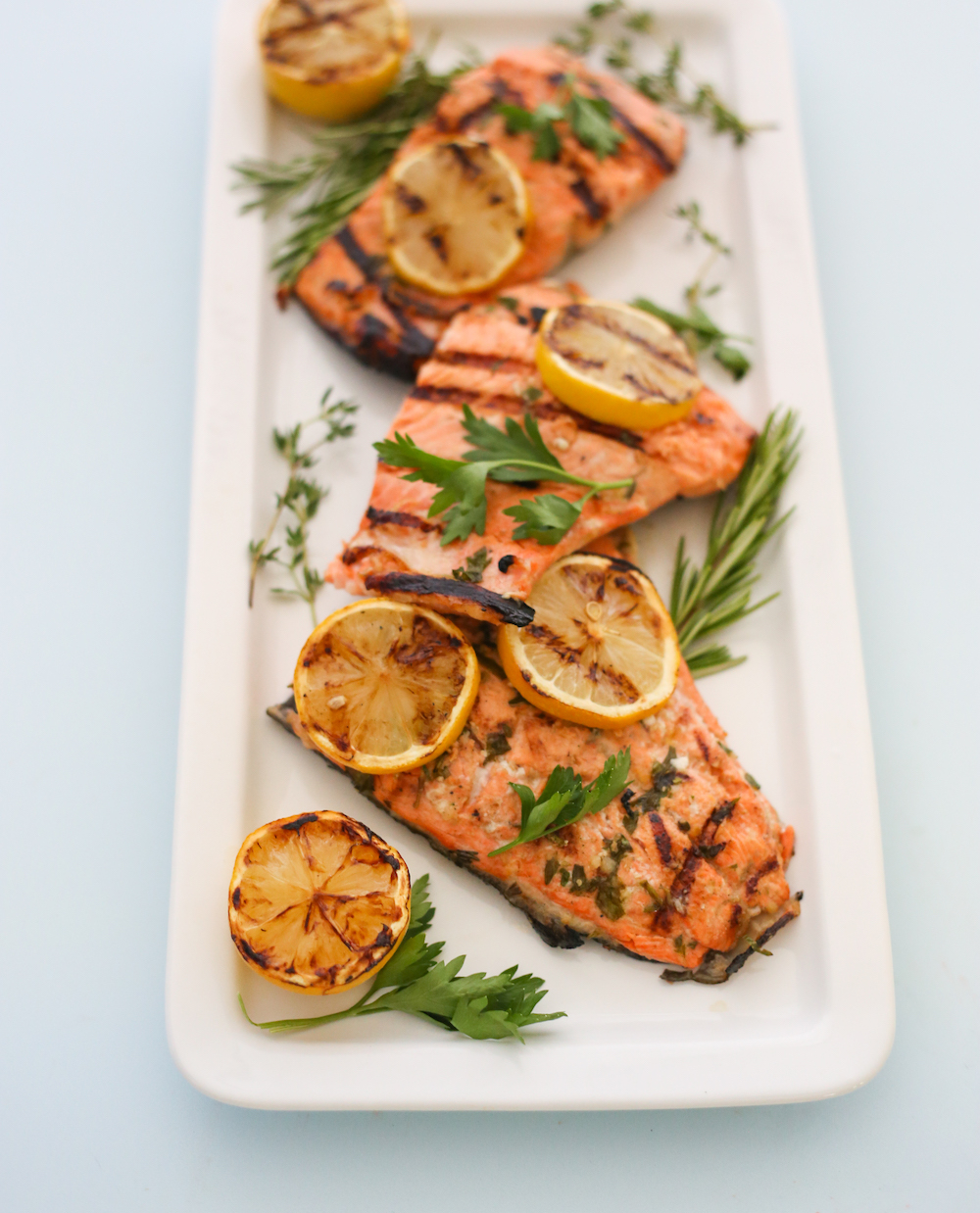 Remove the salmon from the grill. Sprinkle with more parsley and garnish with lemon slices.
Serve with Étude Pinot Nior and enjoy!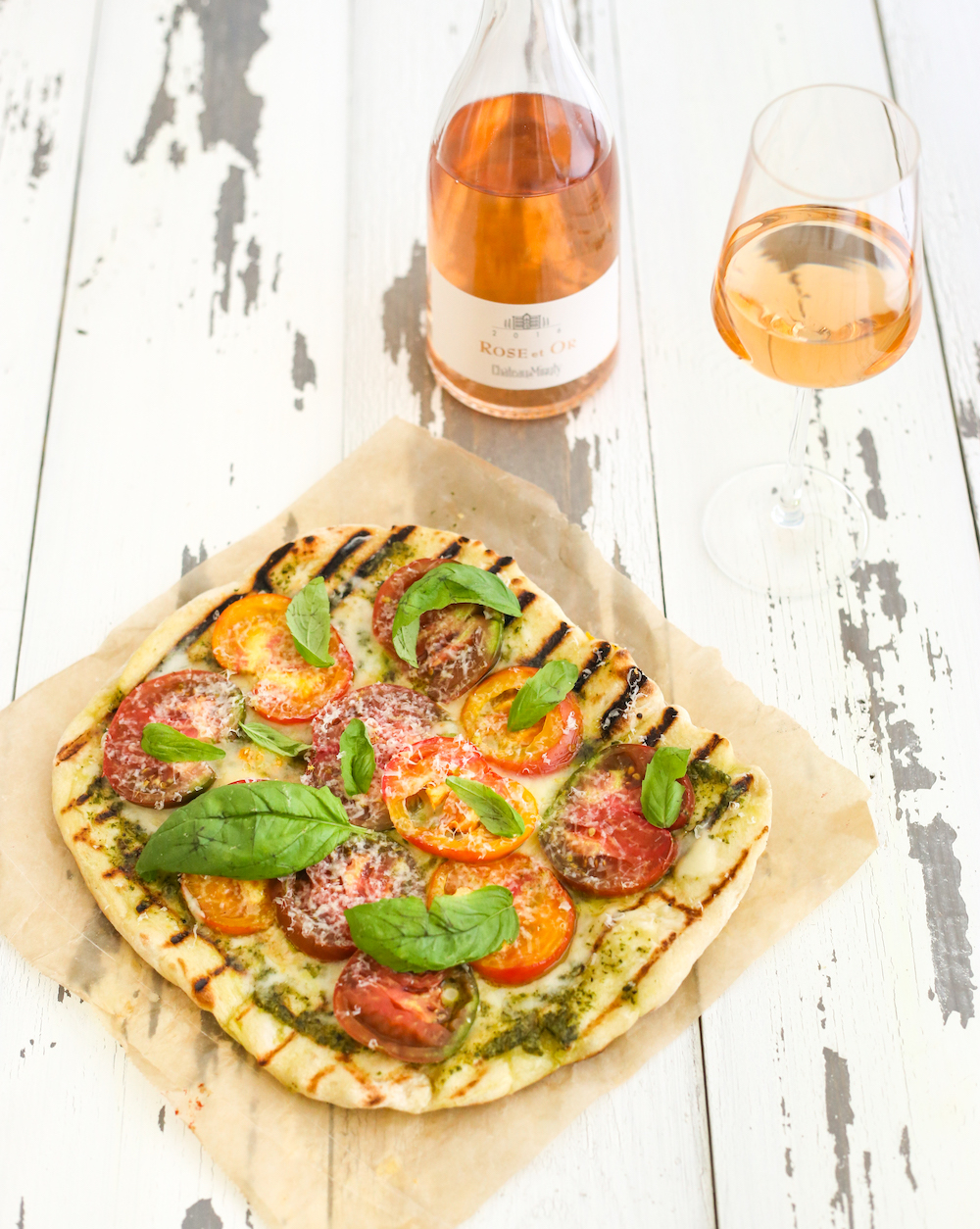 Heirloom Tomato Flatbread
We paired this with Chateau Minuty Rosé
Serves 4
Ingredients
1/2 lb pre-made whole-wheat pizza dough
1 cup shredded mozzarella cheese
2 Tbsp parmesan cheese
2 large heirloom tomatoes, sliced
1/4 cup fresh basil leaves
2 Tbsp pesto
Directions
Sprinkle flour on a cutting board or countertop. Roll out the pizza dough so that it creates a large circle, about 1/8 inch thick.
Preheat your grill to at least 450F.
Place the pizza dough directly on the grill grates. Cook for about 2 minutes, or until it has grill marks.
Remove the dough from the grill and place it on a plate or tray. Flip it so that the non-grilled side is faced down.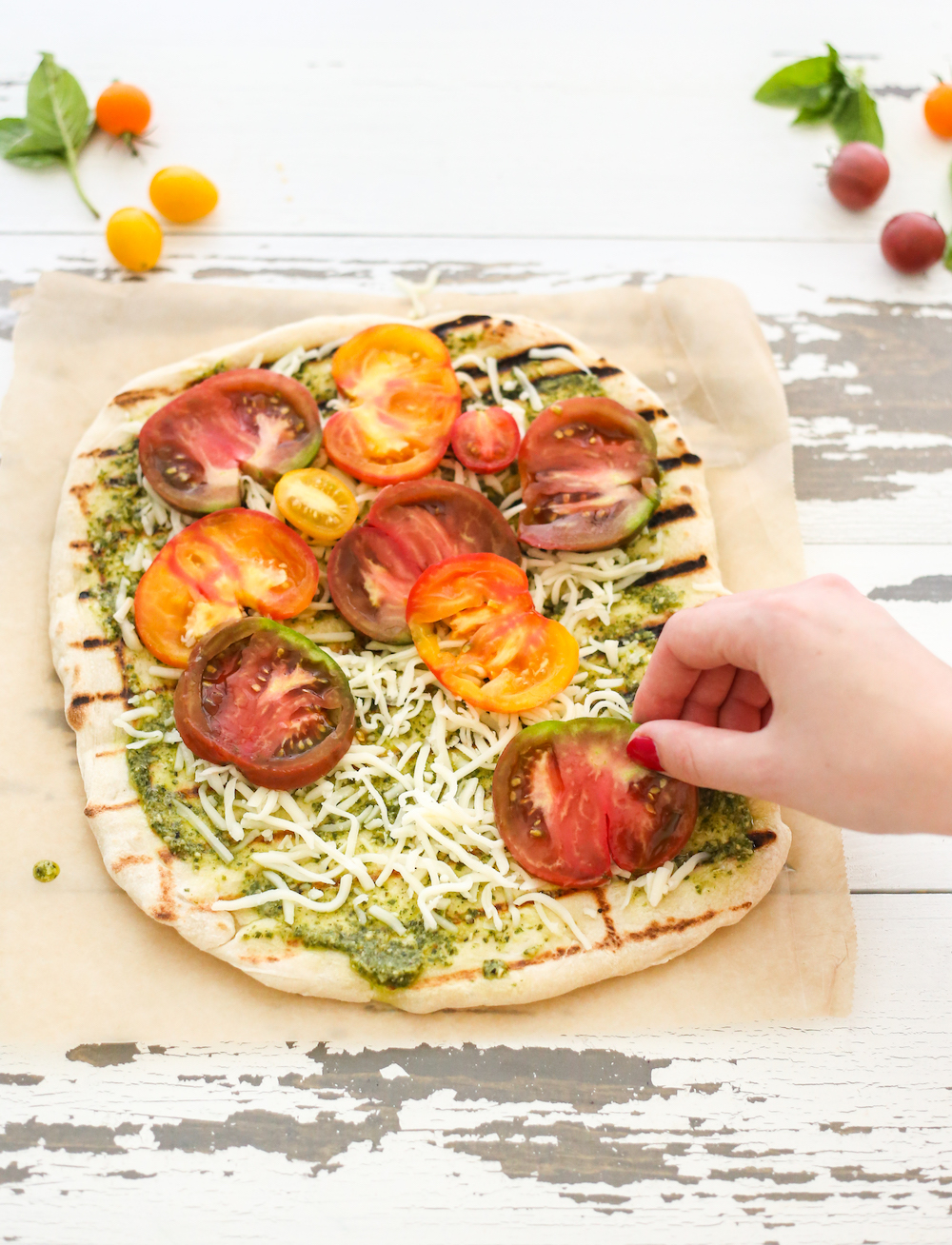 Spread pesto on the grilled side of the dough, then add cheese and tomatoes to the top.
Place the flatbread back onto the grill, toppings-side up, for another 3-4 minutes or until the cheese is melted and the bottom is crisp.
Remove the flatbread from the grill. Sprinkle with parmesan cheese and add fresh basil.
Slice and serve with Chateau Minuty Rosé!
Whip these up for your Labor Day BBQ, or any special occasion—these wine pairings will impress all of your guests! Have a safe and happy Labor Day weekend!