It's all about balance this time of year! With a busy holiday season and so many tasty meals, it's important to find time to eat healthy too! And although you could catch us eating pie for every meal, we like to mix it up. So we talked to Molly from Balance by Molly, and she shared with us two recipes that she loves to eat, especially during the holiday season—and we're in love! Start your day off with the perfect Pumpkin Spice Oatmeal, and end your day with an Apple and Brussel Sprout salad with homemade honey mustard dressing. Keep reading to find out why Molly loves these, and the directions!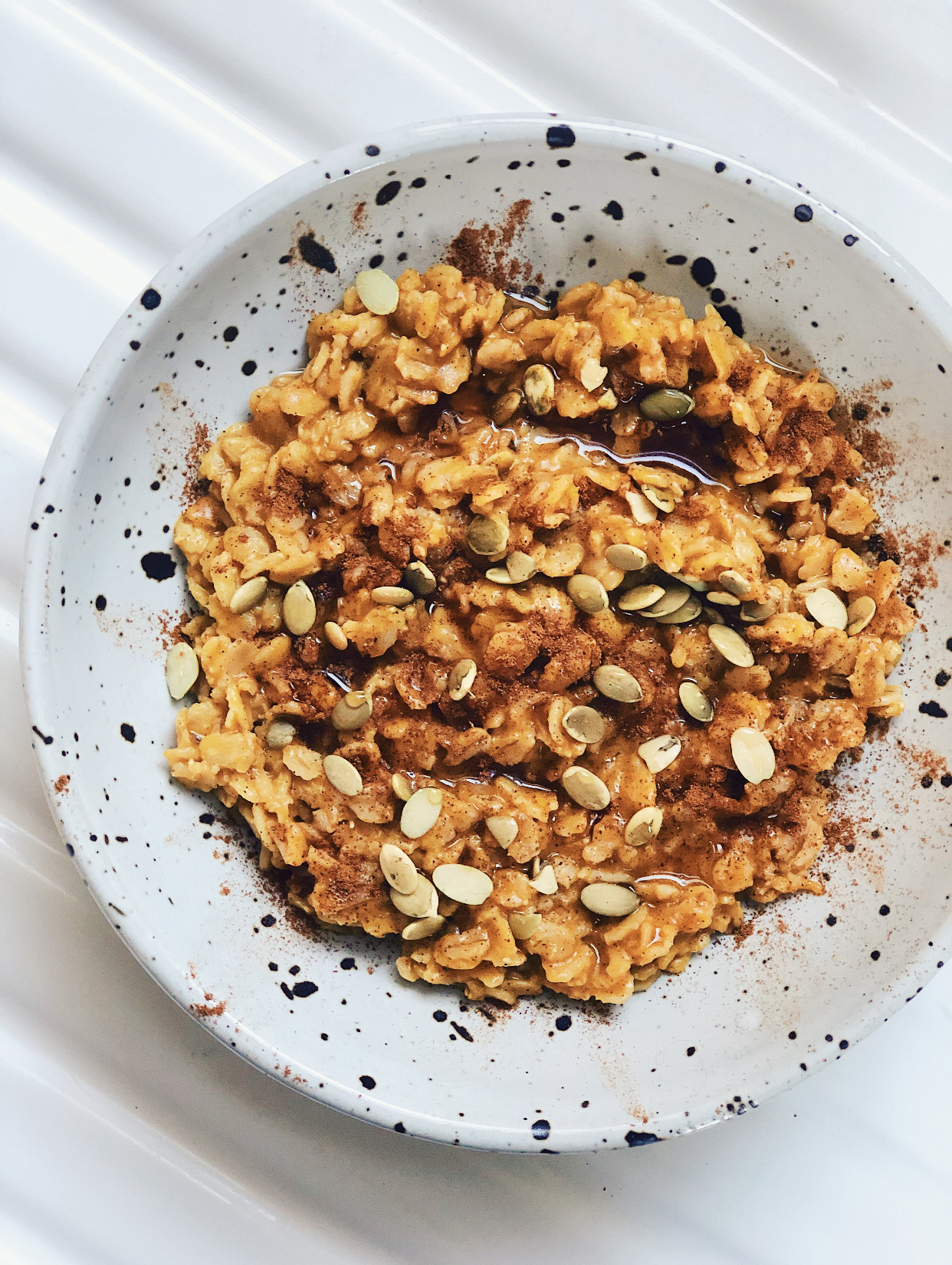 Warming Pumpkin Spice Oats
Serving Size 1
The temperatures are officially starting to drop and it's time for everything pumpkin spice. I know, I know… pumpkin spice may be a little overplayed according to some opinions, but just wait until you try this bowl for yourself! I promise you will be boarding the pumpkin train and embracing everything fall when you have this.
This bowl of oats is nourishing, grounding, and absolutely delicious! It is also so easy to make with just a few simple ingredients that you have on hand in your pantry.
Here is how you can make this for yourself, and enjoy a warm breakfast and celebrate the new season and changing leaves!
Ingredients
1 cup water
1/2 cup rolled oats
2 tbsp nut milk (cashew or almond works best)
3 tbsp pumpkin purée
1 tsp cinnamon
1/4 tsp ground ginger
1/8 tsp ground nutmeg
Pinch of salt
Directions
1. Bring one cup of water to boil
2. Add 1/2 cup oats, and cool until the oats absorb the water
3. Add your cashew or almond milk and stir
4. Add 3 tbsp of pumpkin purée, a pinch of sea salt, 1 tsp cinnamon, 1/4 tsp ground ginger, and 1/8 tsp ground nutmeg*
5. Spoon into a bowl and top with maple syrup and pumpkin seeds.
*if you have a pumpkin spice blend on hand, you can use 1.5 tsp of this instead of the cinnamon, ginger, and nutmeg combo.
Now sit in your favorite chair or couch, put those cozy socks on, and dive under a warm blanket. Things are about to get cozy! Enjoy!
Apple + Brussel Sprout Salad with Honey Mustard Dressing
Serving Size 2
Fall is always that in between time for me when I start to crave warming soups but still want salads as well. I created this salad to transition into fall and winter using my all-time favorite vegetable, Brussels sprouts!
I love how the Brussel sprouts combine with the sweetness of the apple and crunch from the romaine and sunflower seeds. Adding avocado for healthy fats and chicken for nourishing protein makes this a full meal for lunch or a light dinner!
Ingredients (salad)
4 cups chopped romaine lettuce (about 2 romaine heads)
1 honey crisp or pink lady apple
1 large chicken breast, poached or baked then shredded. (approx. 3/4 pound) You can also use rotisserie chicken.
2 tbsp sunflower seeds
1 avocado
1 cup cooked Brussels sprouts
1 tbsp olive oil
Ingredients (dressing)
4 tbsp olive oil
1 tbsp apple cider vinegar
1 tbsp dijon mustard
1 tsp honey
1/2 tbsp lemon
Pinch of salt and pepper
Whisk together to make dressing
Directions for Brussels sprouts
1. Rinse and slice Brussels sprouts in half.
2. Add to boiling water for 2 minutes until they are blanched.
3. Add to a nonstick skillet on medium-high heat flat side down in a single layer and cook for 5 minutes until browned and flip to cook for another 2 minutes.
4. Test for doneness with a fork.
Set aside to cool. Combine all of the ingredients and toss to combine. Divide between two bowls, break out the forks and dive in!
Enjoy these delicious recipes. Find more from Molly on her Instagram!