Last weekend marked the end of a strong junior squash season, with a record number of 35 kids representing the Bay Club at the 2017 U.S. Junior Squash Championships at Harvard's Murr Center—and what a weekend it was! Please join us in congratulating all of our juniors on a job well done.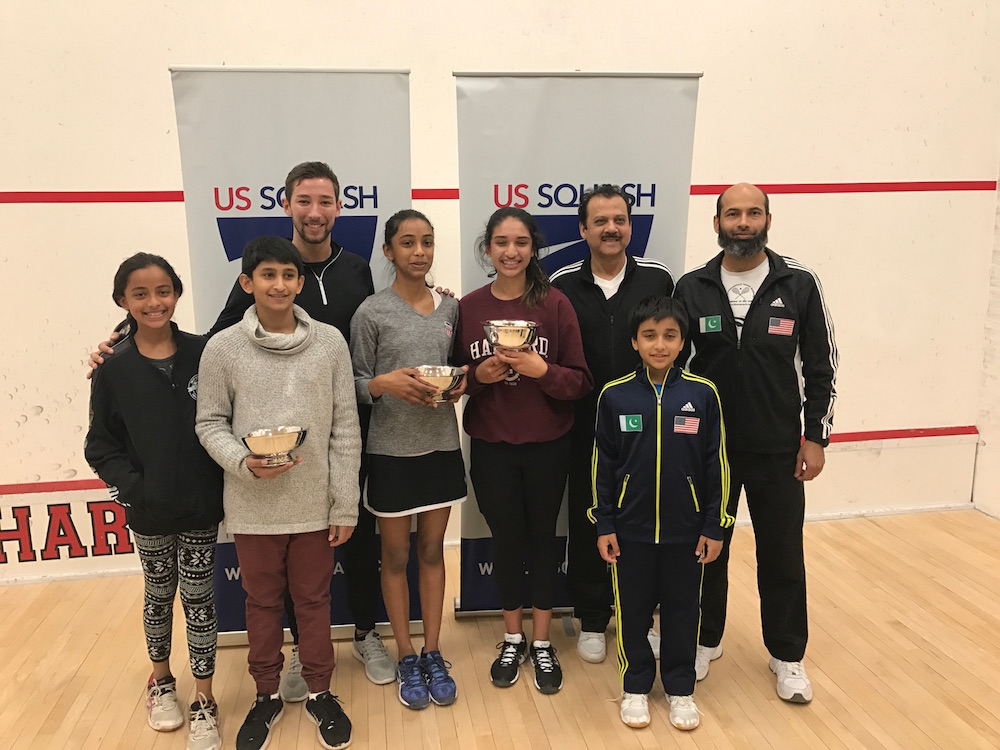 The Bay Club was proud to have 10 juniors represented in the boys under 11 draw. Perhaps the highlight of the event was when Bay Club Santa Clara's Ahmad Haq captured the BU11 Title in straight games. Another notable moment was when Bay Club Cupertino's Varun Fuloria fought his way to the semifinals and earned fourth place.
Moving to the girls under 11 draw, Bay Club Santa Clara's Riya Navani was top seed, but sadly lost a heartbreaker in the fifth game of the semifinals. She was still able to finish strong by taking third in the division.
Three of our junior squash stars were top seeds in the boys under 13 draw, and two of these players happened to face each other in the finals. Bay Club Santa Clara's Varun Chitturi, the draw's top seed, bested John Ho of Bay Club Redwood Shores in a well-played final match. And yet another highlight from this draw was Bay Club Redwood Shores' Rohan Valia coming through to the consolation finals.
In the girls under 15 draw, Bay Club Cupertino dominated with Serena Daniel and Avni Anand, the two top seeds in this category, who faced off in the finals. While both squashers played well, Avni ended up besting Serena in three hard fought games. No doubt these two will be battling it out for years to come.
In the higher divisions, Bay Club Santa Clara's Cassie Ong reached the final of the girls under 17 draw by beating the number two seed on her way. And Bay Club Santa Clara's Dillon Huang won the boys under 17 consolation finals.
Representing the college-level girls under 19 draw, Bay Club Santa Clara's Julie Yeung, who has only played for two years, won the U.S. squash most improved player. And in the boys under 19 draw, Bay Club Redwood Shores' Cole Becker, a recent top recruit for Princeton University, competed with a heroic display by pushing the eventual champion Andrew Douglas to five games in the semifinals. Becker finished fourth and secured a spot on the U.S. National Team this summer with his solid performance over the weekend.
On behalf of the entire Bay Club community, we congratulate our team on their amazing athleticism, sportsmanship, and dedication this year. We must also congratulate Bay Club Squash Coaches Maha Zein, Jon Perry, Charlie Johnson, Johann Huang, Aisling Blake, Mustafa Nabil and Gareth Webber, who expertly guided, supported, and coached these young talents.
Go Team Bay Club!