If you think a salad must have a leafy green base—be it spinach, romaine, or mixed greens—think again. Look up the word salad in the dictionary, and the definition reads "a cold dish of various mixtures of raw or cooked vegetables, usually seasoned with oil, vinegar, or other dressing and sometimes accompanied by meat, fish, or other ingredients." Nowhere does it say that lettuce, baby kale, or arugula is required.
While we love a scrumptious green salad, in the summer months, we enjoy more sturdy salads filled with crunchy vegetables and satisfying beans. Broccoli or black bean salad is more picnic-friendly than Caesar or an iceberg wedge. Plus, removing the greens means you don't have to worry about the salad getting soggy or wilting.
The key to making a greens-free salad is to choose a variety of vegetables in various stages of cooking. For example, mix crunchy raw cucumbers with tender boiled corn kernels or sweet roasted fennel with crisp cool celery. Incorporate ingredients that pack a punch of flavor—like herbs, salty cheese, and toasted nuts. Toss all the components with a light, citrus-laced oil vinaigrette. Ready to experiment with a nutrient-rich lettuce-free salad? Below are two delicious recipes.
Cauliflower, Cucumber, and Corn Salad
Serves 4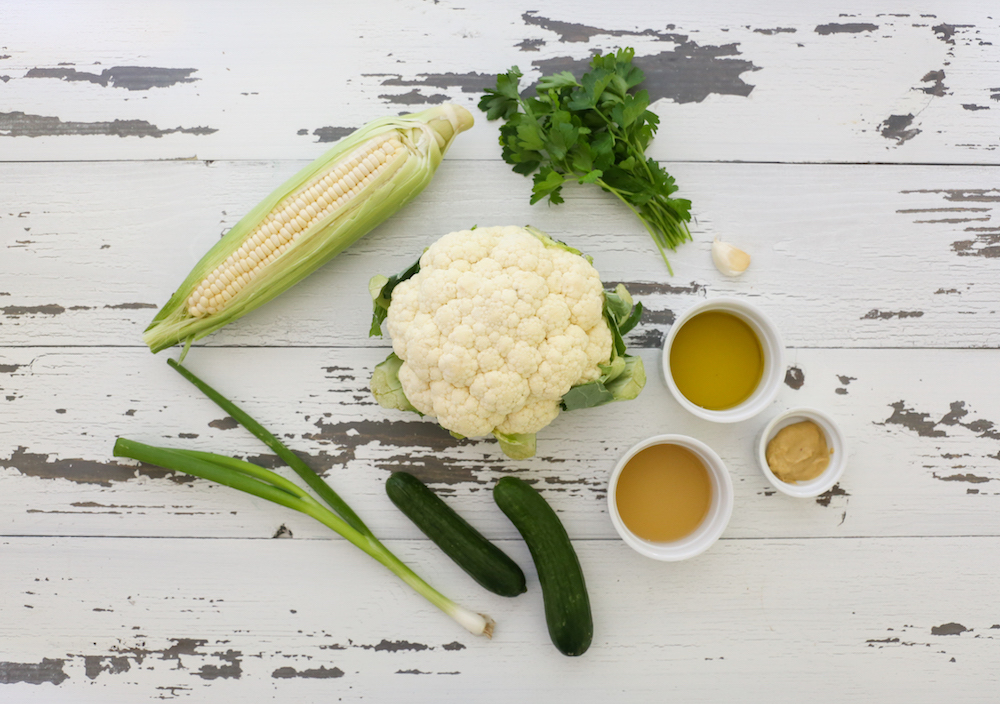 Ingredients
1 medium cauliflower head
2 Persian cucumbers
2 ears of corn, steamed (or 1 can of corn, drained and rinsed)
1 green onion
1/4 cup parsley
Sliced avocado and chili flakes for serving
Apple Cider Vinaigrette
2 tbsp apple cider vinegar
1/4 cup olive oil
1/2 tsp dijon mustard
1 garlic clove, minced
1/4 tsp ground cumin
1/4 tsp lemon zest
Salt to taste (start with 1/2 tsp)
Pepper to taste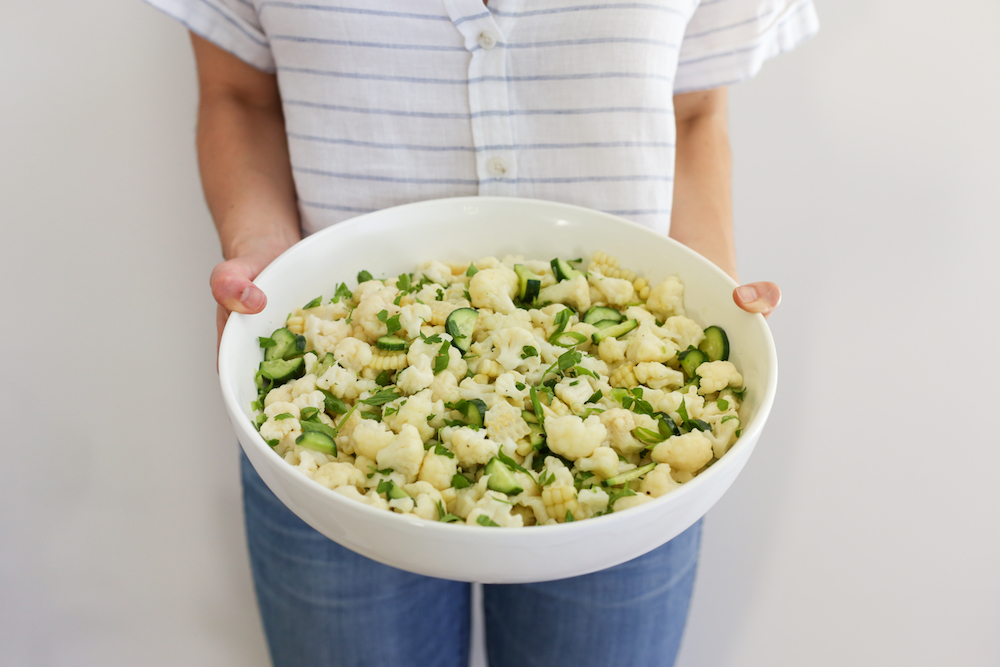 Directions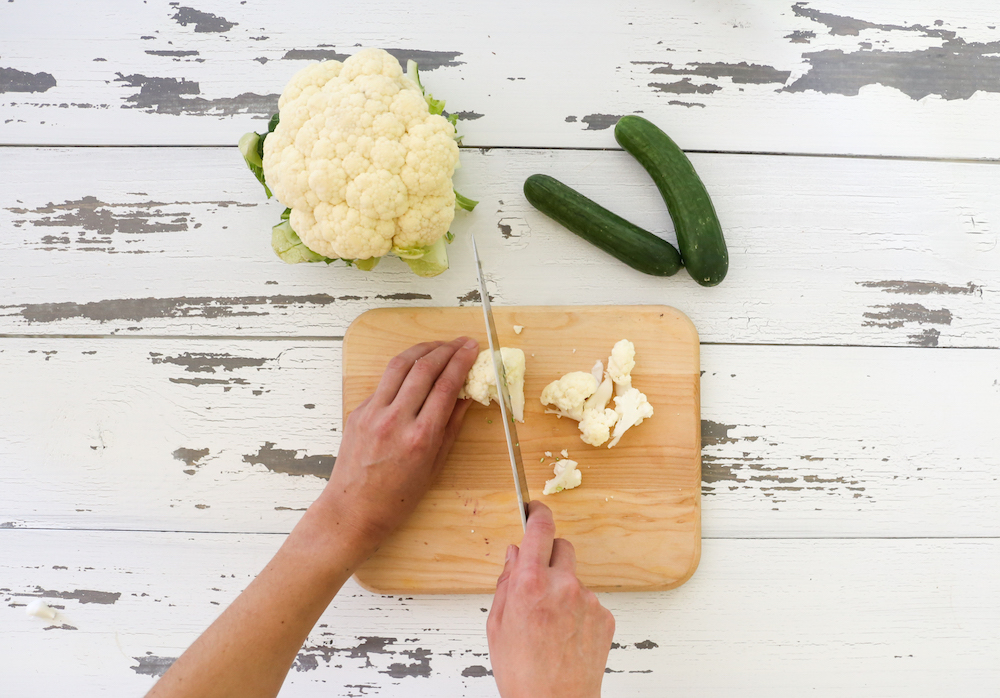 Cut the cauliflower head into small bite size florets, then lightly steam for 5-8 minutes, until tender but still crunchy.
While the cauliflower is cooling, chop the cucumber, green onions, and parsley, and cut off the kernels from the steamed corn.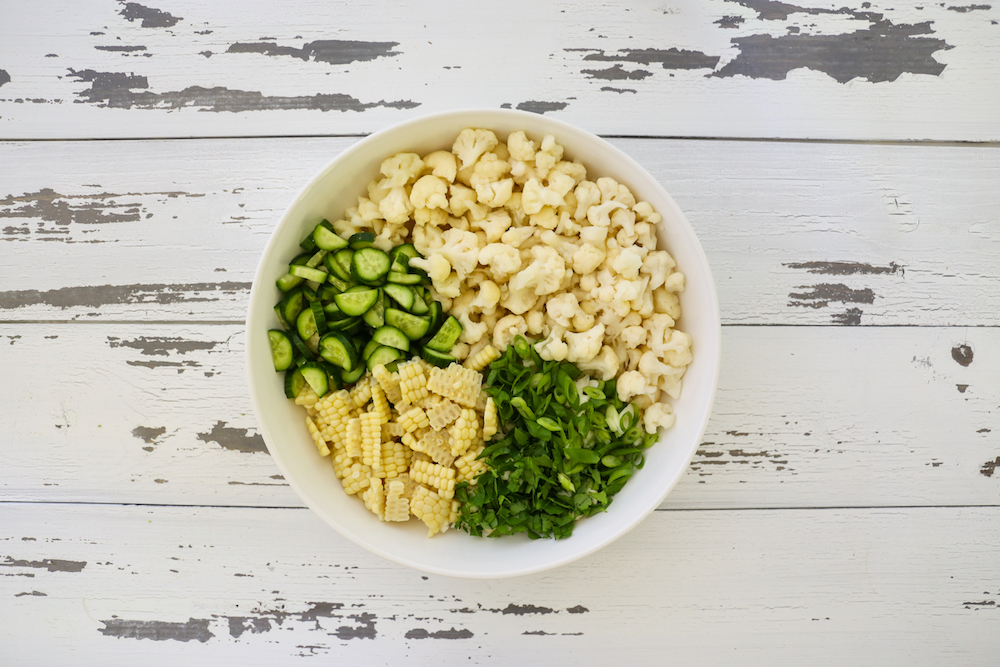 Combine the cauliflower, cucumber, corn, and green onion into a large bowl.
Whisk all the ingredients for the vinaigrette together, then drizzle over the vegetables. Add salt as neeeded.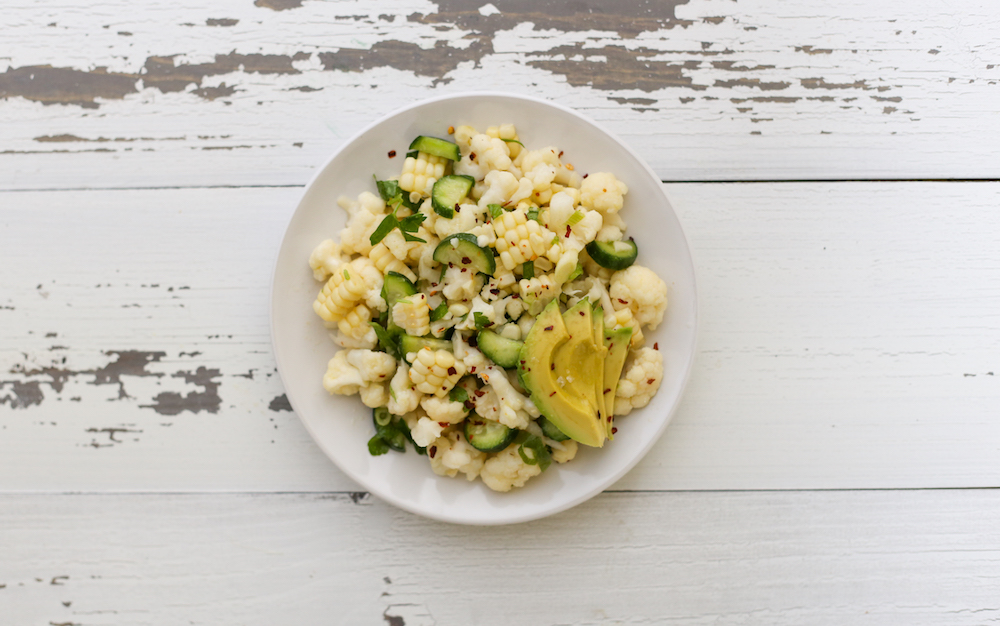 Toss and let it chill in the fridge for 30 minutes before serving with avocado and chili flakes.
Green Bean Salad
Serves 4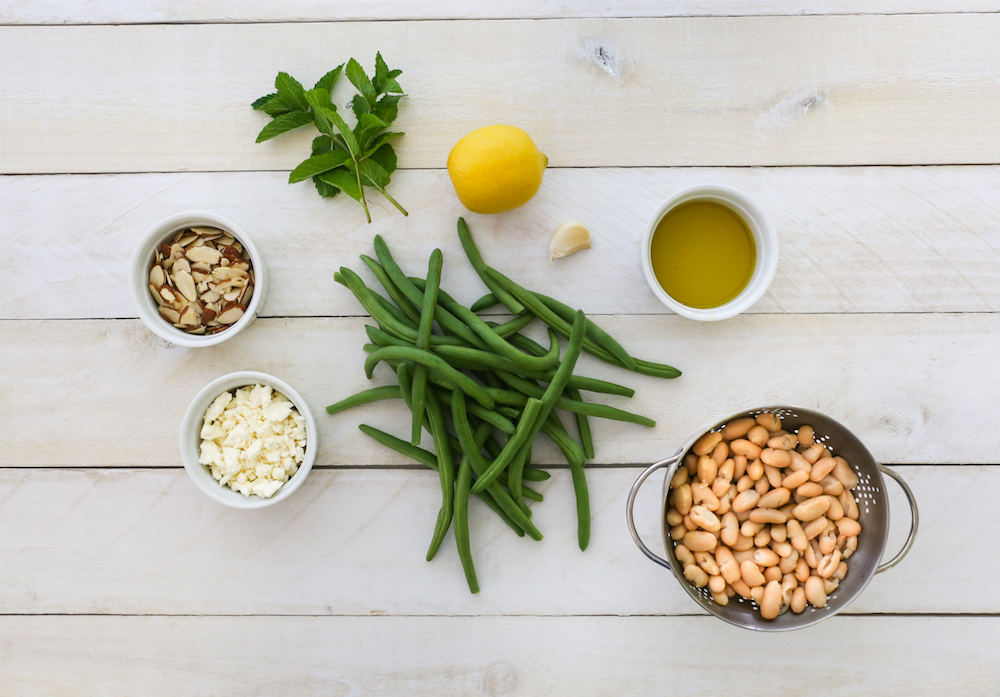 Ingredients
5 lbs of fresh green beans (approx. 4 cups)
1 can of white beans, such as cannellini beans or butter beans
1/2 cup feta cheese
1/2 cup slivered almonds
1/4 cup fresh mint, chopped
Fresh Lemon Dressing
Zest of 1/2 lemon
Juice of 1 lemon
1 garlic clove, minced
1/4 cup olive oil
Salt and pepper to taste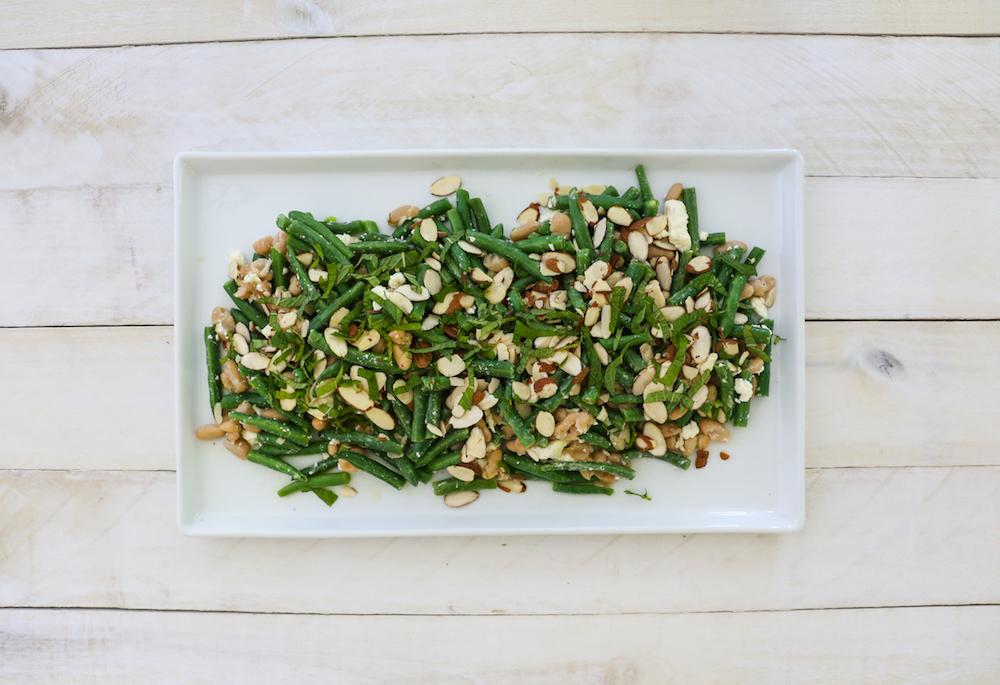 Directions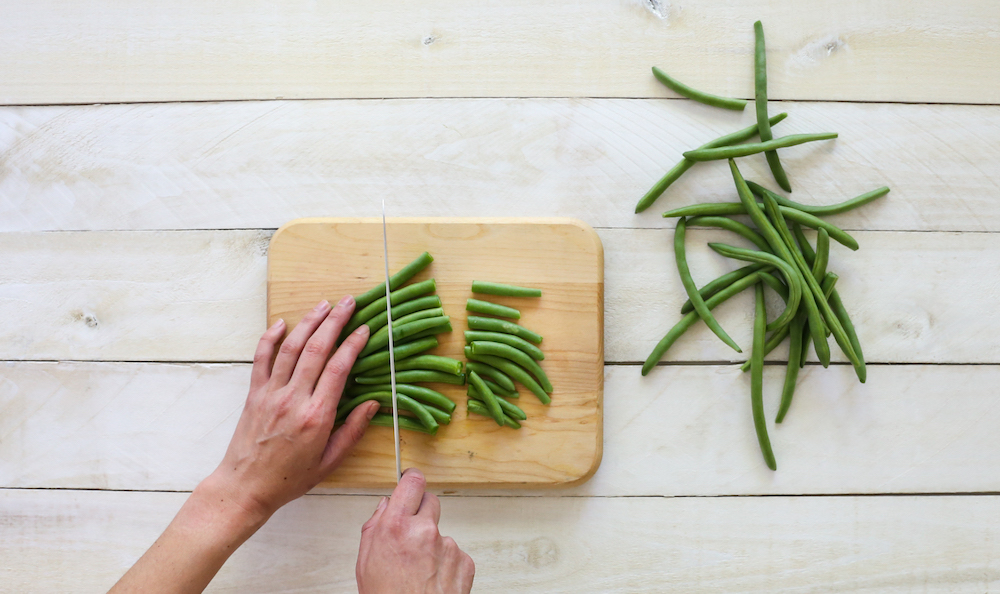 Cut the green beans into thirds, then lightly steam for 5-8 minutes, until tender but still crunchy. Once desired texture is reached, immediately transfer the beans to an ice bath. Drain the beans and pat them dry.
Drain and rinse the can of white beans.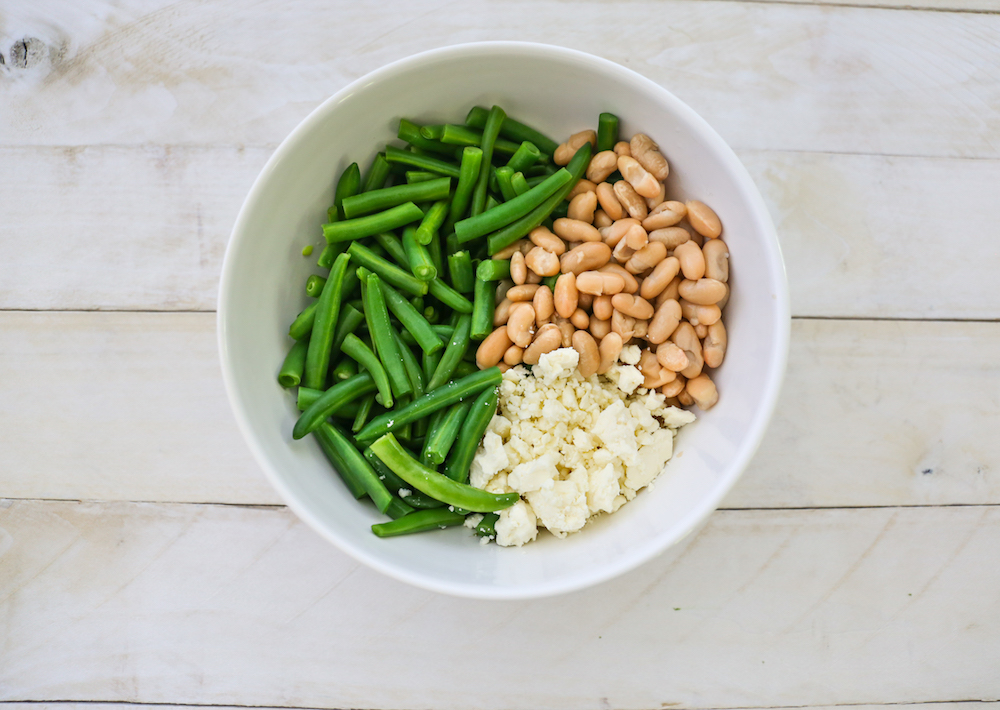 Combine all dressing ingredients in a bowl, and whisk together.
Place steamed green beans, white beans, and feta in a bowl, then drizzle the dressing on top.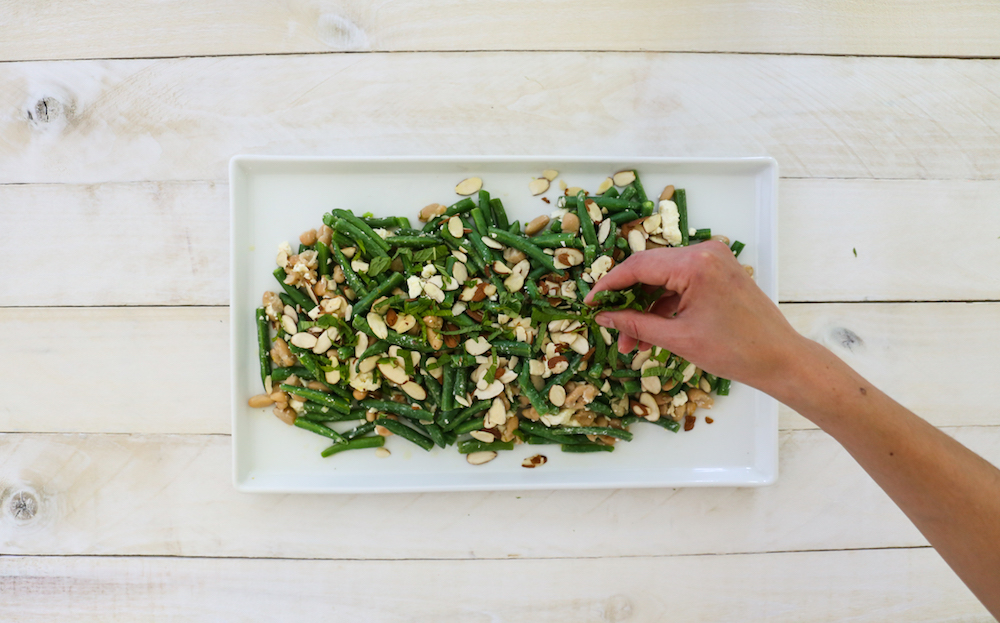 Gently toss the salad, then transfer it to your serving dish and top with almonds and fresh mint.
And there you have it—two healthy and lettuce-free salads that are perfect for the rest of your summer BBQs.