It's a long weekend, and whether you're celebrating in your own backyard, or at a local park—what better way to enjoy our beautiful earth than by getting outside with some of your favorite foods, family, and picnic accouterments?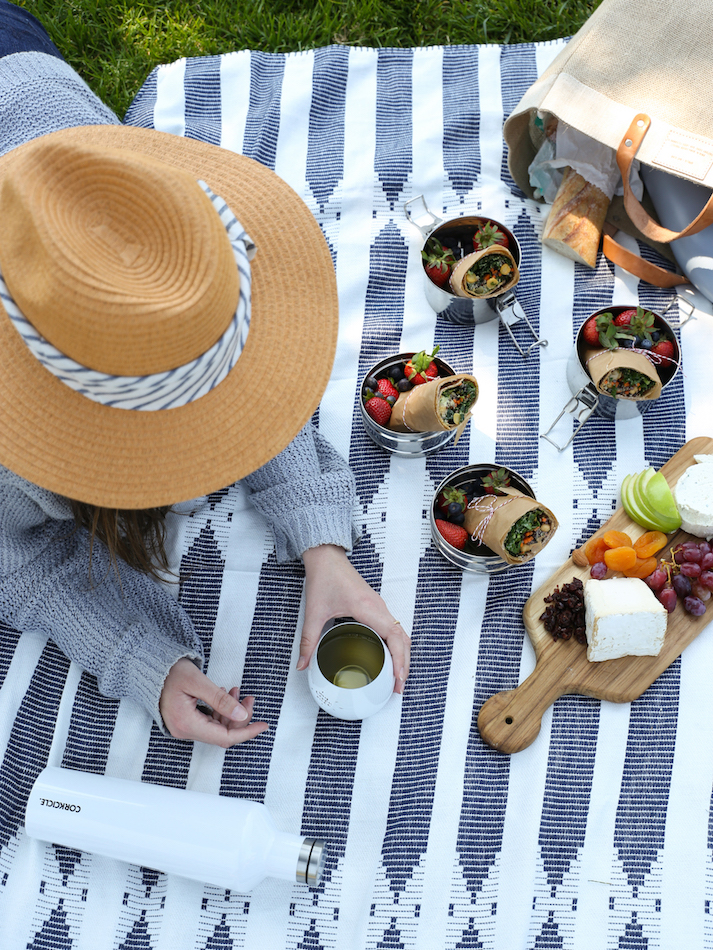 This is the perfect time to dedicate a day to kicking off your shoes, finding a good patch of grass, and setting up for an alfresco meal. And every good picnicker knows that a successful afternoon spent snacking outside depends on more than good weather—it's all about what's in your picnic basket.
Here are a few of our essential items for pulling off the perfect picnic.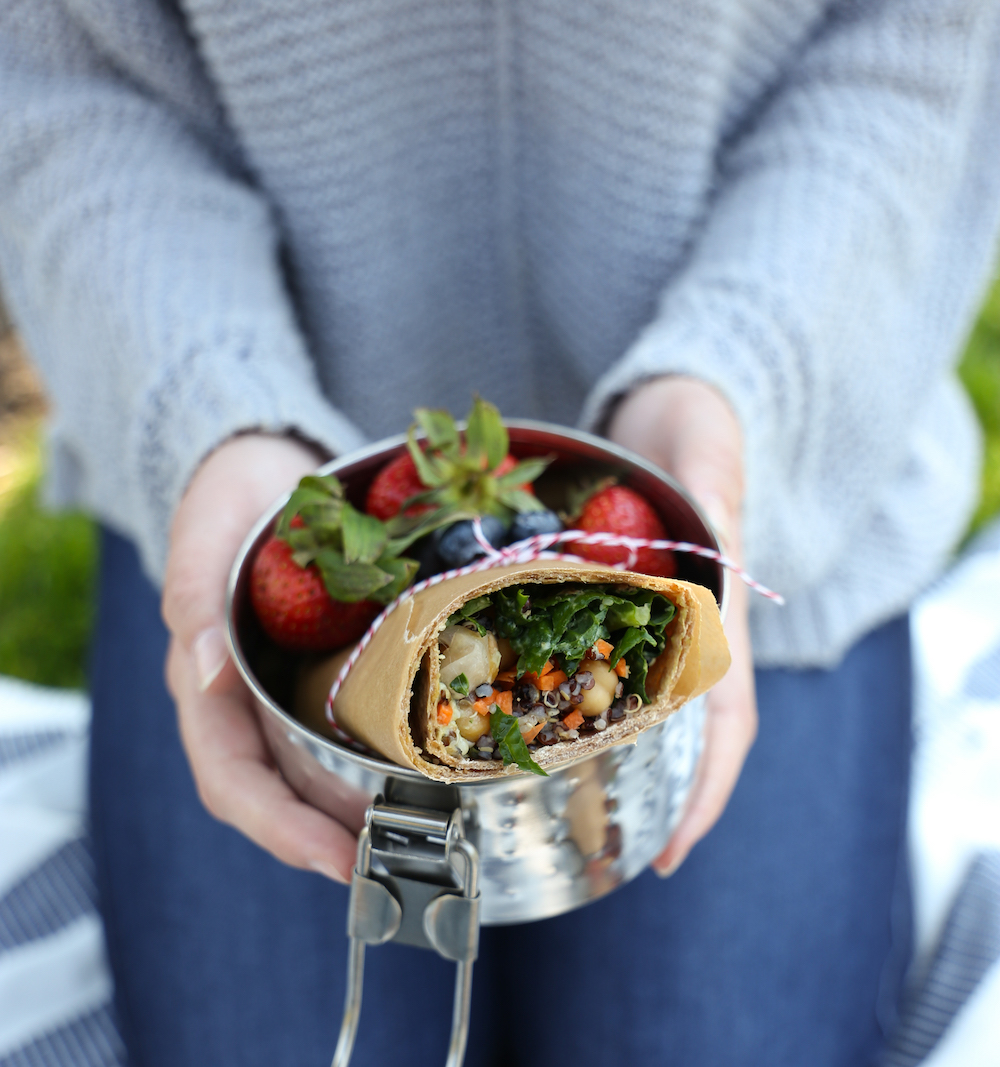 Delicious Food
This probably seems like an obvious one, but in addition to the taste test, there are a few other tests your food should pass in order to be picnic-perfect. It should also be transportable, easy to make ahead of time, and, for nutrition's sake, it should be a complete meal (with a healthy mix of carbs, protein, and healthy fats).
In addition to a well-rounded charcuterie board, we loved this kale quinoa wrap for a fresh, hearty main for your picnic meal. The recipe below makes four servings.
Kale Quinoa Wrap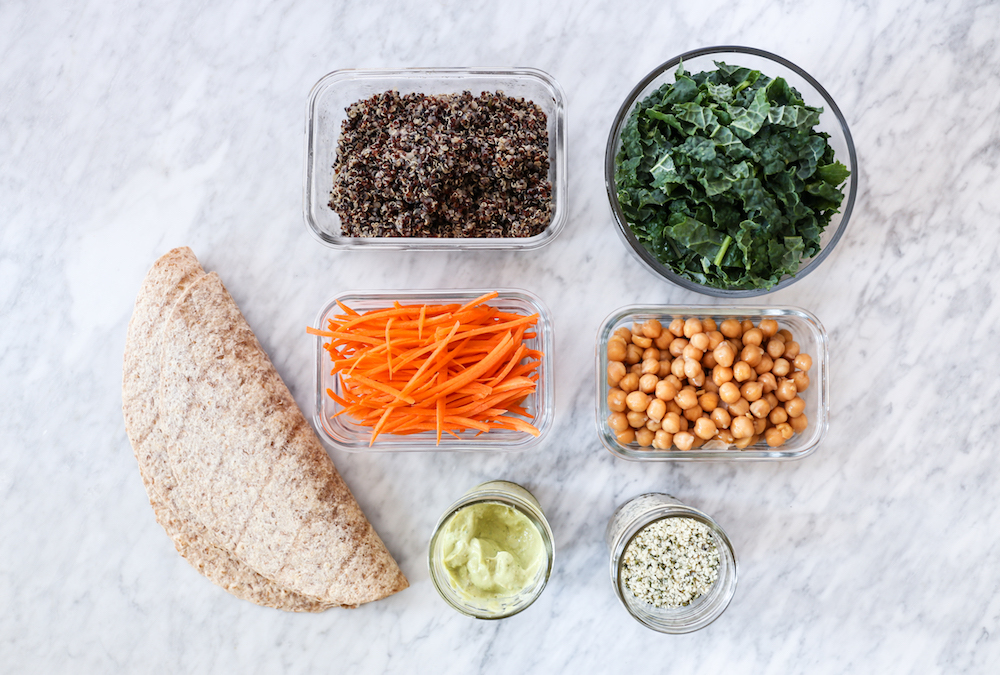 Ingredients
Dressing
1 medium avocado
2 cloves of garlic
1 tbsp tahini or almond butter
3 tbsp olive or grape seed oil
3 tbsp water
Juice of 1 small lemon
Salt & pepper to taste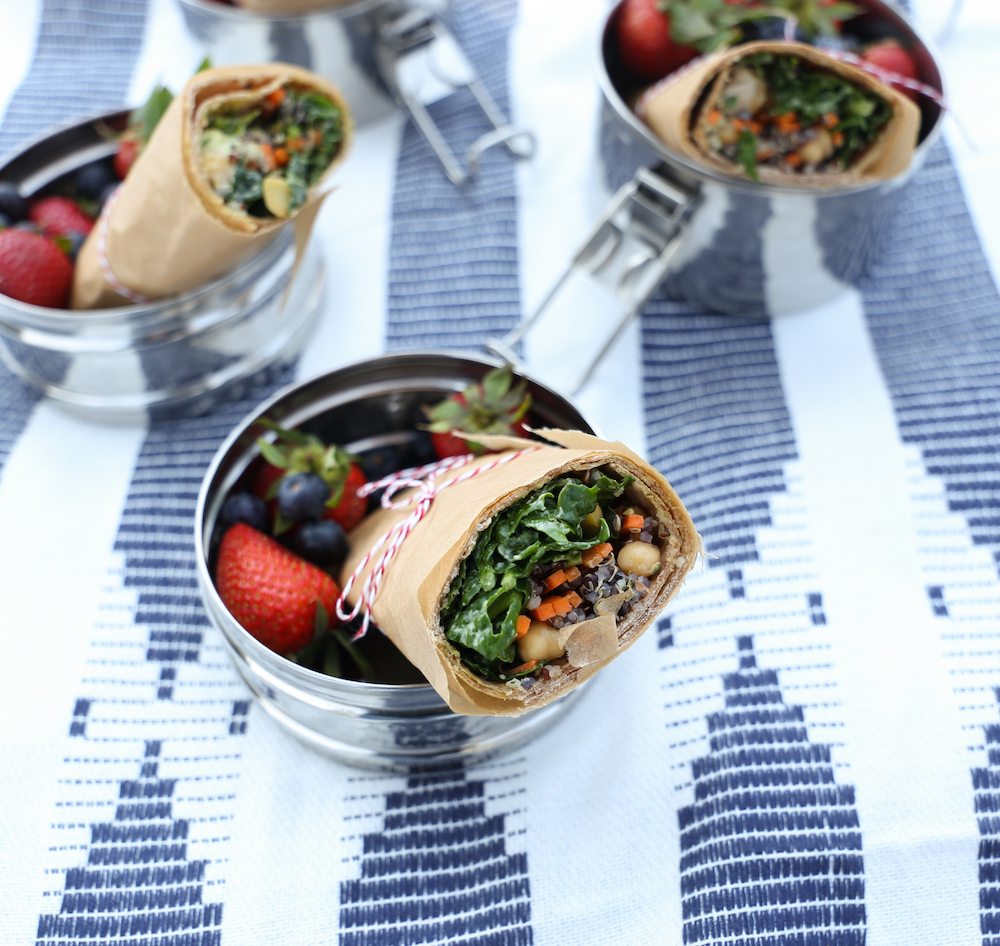 Wraps
4 multigrain tortillas
1 bunch of kale, washed and chopped
2 carrots, peeled, and sliced or shredded
1 cup of cooked quinoa
1 cup of cooked chickpeas
Micro greens, pumpkin seeds, sunflower seeds, help seeds (optional)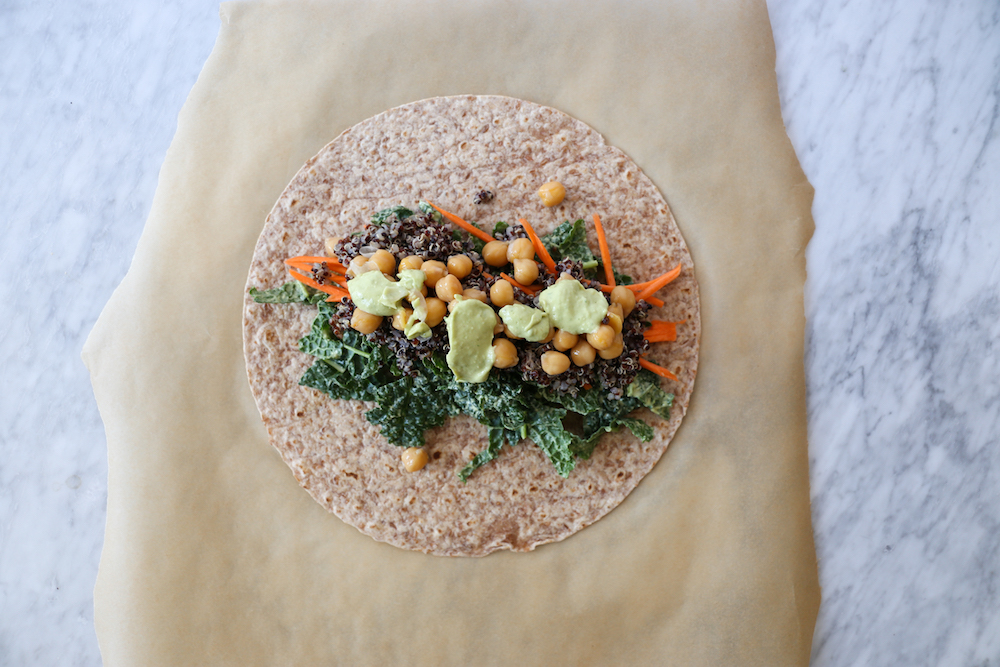 Instructions
Combine all dressing ingredients in a food processor or blender. Blend until smooth.
Massage kale with 1/2 of the dressing.
Place one tortilla on a piece of wax paper. Fill tortilla with a large handful of kale, one handful of carrots, 1/4 cup of quinoa, and 1/4 cup of chickpeas. Add a few more dollops of avocado dressing, then top with micro greens and seeds.
Roll the tortilla up and wrap in parchment paper. Repeat 3 more times (or for however many picnic guests you'll be having)!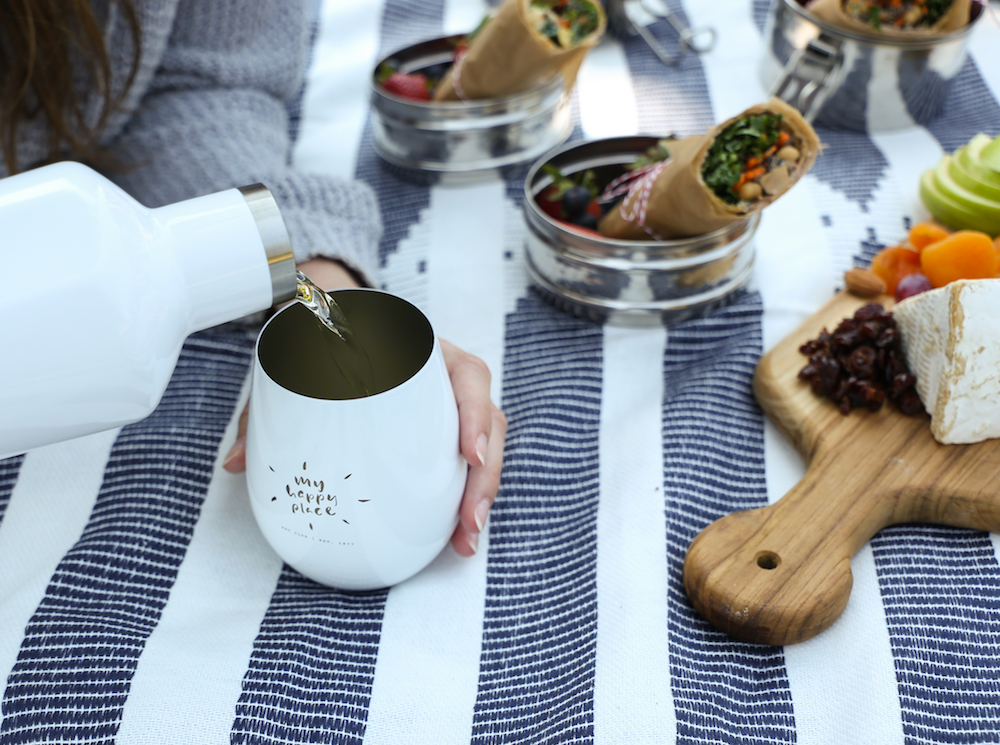 Serving Ware
Being prepared is key to picnicking, and nothing ruins a lunch more than discovering you forgot the cups and utensils to enjoy your meal. For keeping water, iced tea, or wine cool, we love the tumblers and canteens by Corkcicle.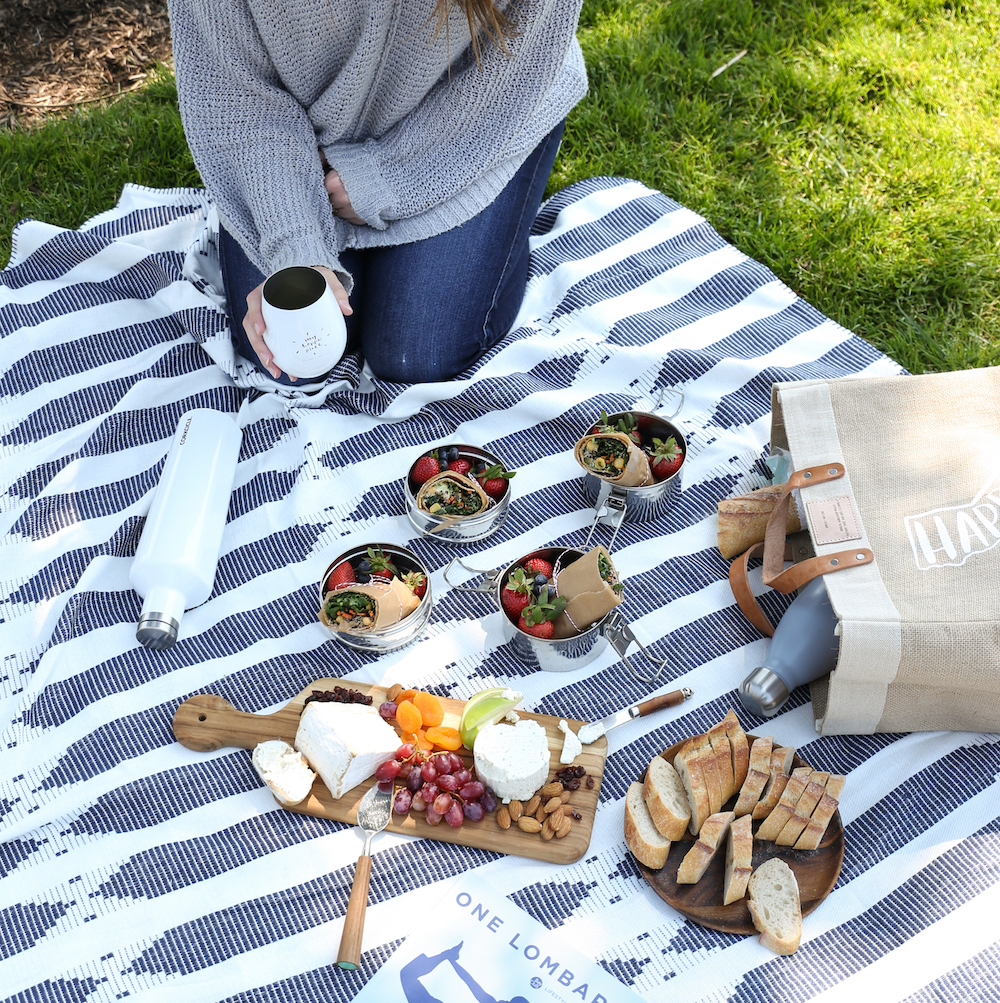 Grass-Friendly Gear
To shield your food (and pretty white pants) from any grass stains, we recommend toting a functional blanket or beach towel—we love these practical, yet stylish, Zestt blankets.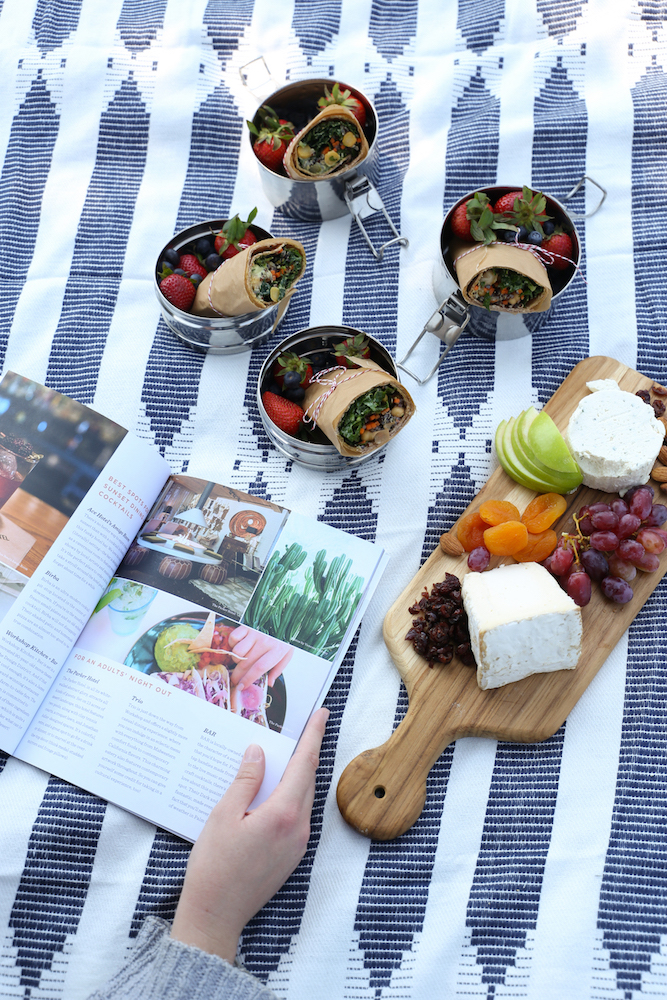 Reading Material
In the name of getting outdoors to connect with nature, a picnic is also the perfect time to disconnect from your phone! Instead of answering emails, bring along some light reading that's enjoyable to share with friends and family.