Seven-layer dip is a tradition at any Super Bowl party—it tastes delicious and goes quickly, but we wouldn't necessarily rank it as the healthiest thing on the menu. So we've decided to give it a healthy makeover, that in our opinion, tastes better than the original. Enjoy a Greek Salad twist on your classic recipe—it's sure to be a touchdown at your Big Game celebration.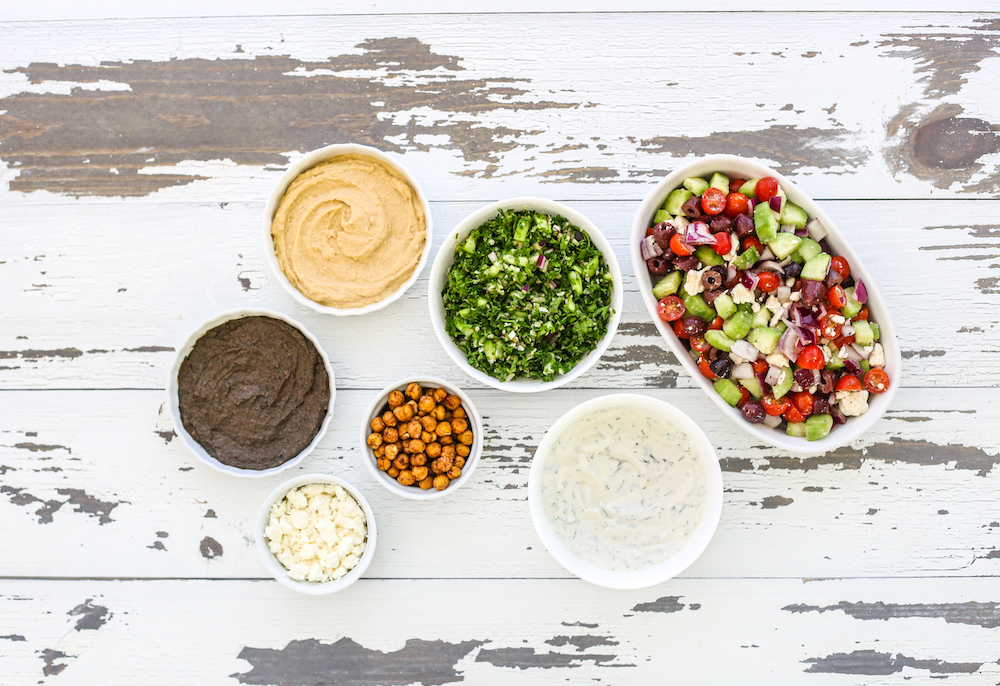 Ingredients
2 cups hummus (16 oz container)
2 cups plain nonfat Greek yogurt
2 tsp chopped dill
Juice of 1 lemon
1 cup chickpeas
1 tsp paprika
1 cups aubergine spread or baba ghanoush
Tabbouleh salad*
Greek salad*
Pita bread or pita chips (to dip)
Optional: falafel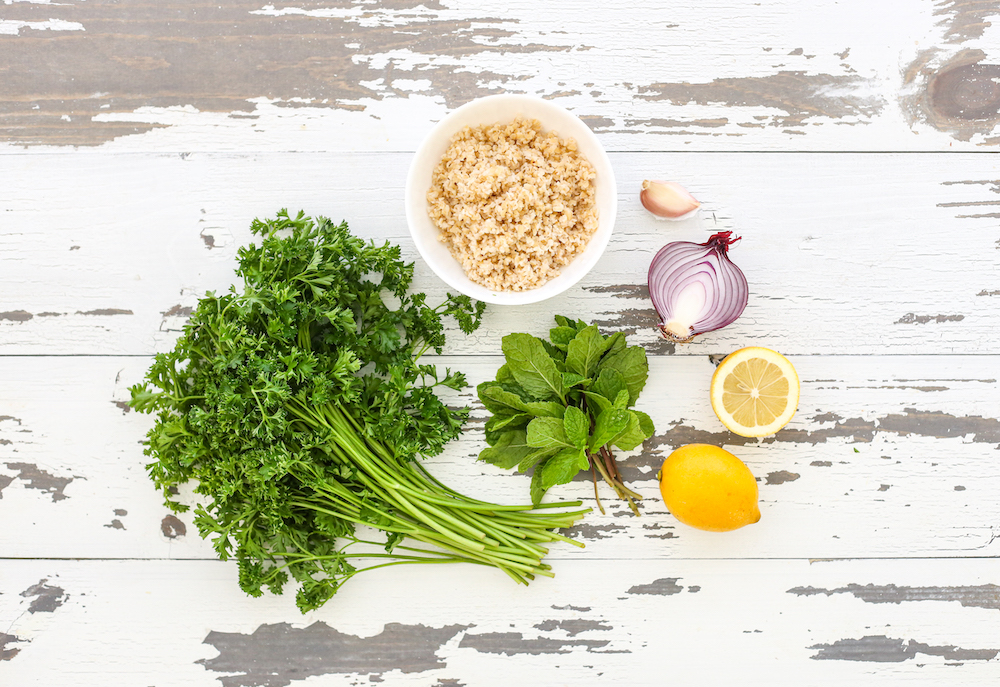 *For Tabbouleh Salad
1/2 cup bulgur
1/2 cup diced cucumber
1/2 tsp salt
1 cups parsley, chopped
1/4 cup red onion, diced
2 Tbsp extra-virgin olive oil
1/4 cup fresh mint, chopped
1 1/2 Tbsp lemon juice
1/2 medium clove of garlic, minced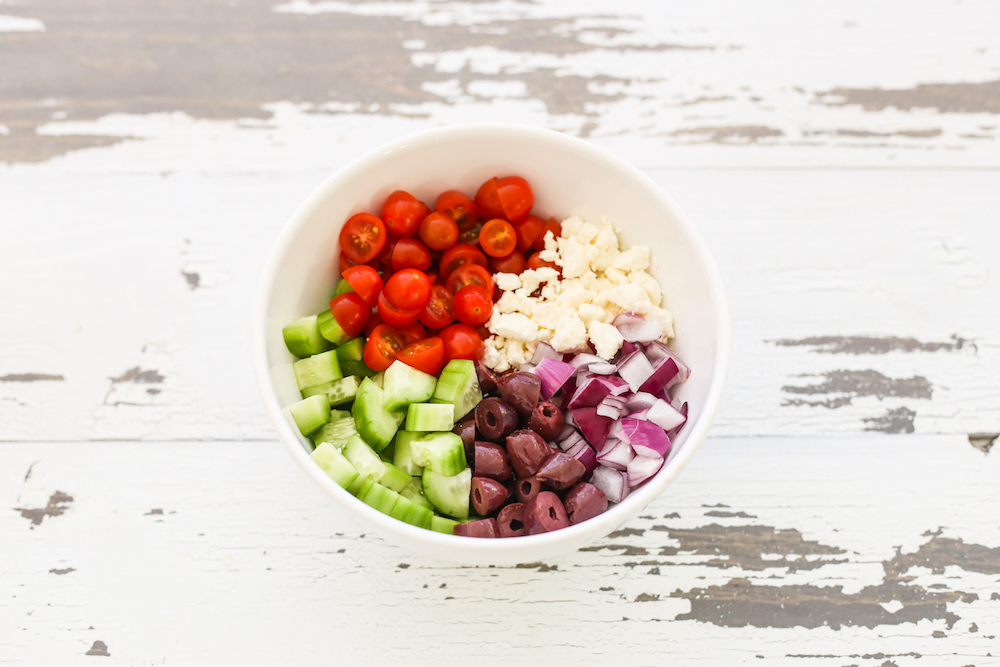 *For Greek Salad
1 cup grape tomatoes, quartered
1 cup cucumber, peeled and diced
1/2 cup kalamata olives, pitted and sliced
1/2 cup feta cheese, crumbled
1/4 cup red onion, chopped
Drizzle of olive oil
Salt, and pepper to taste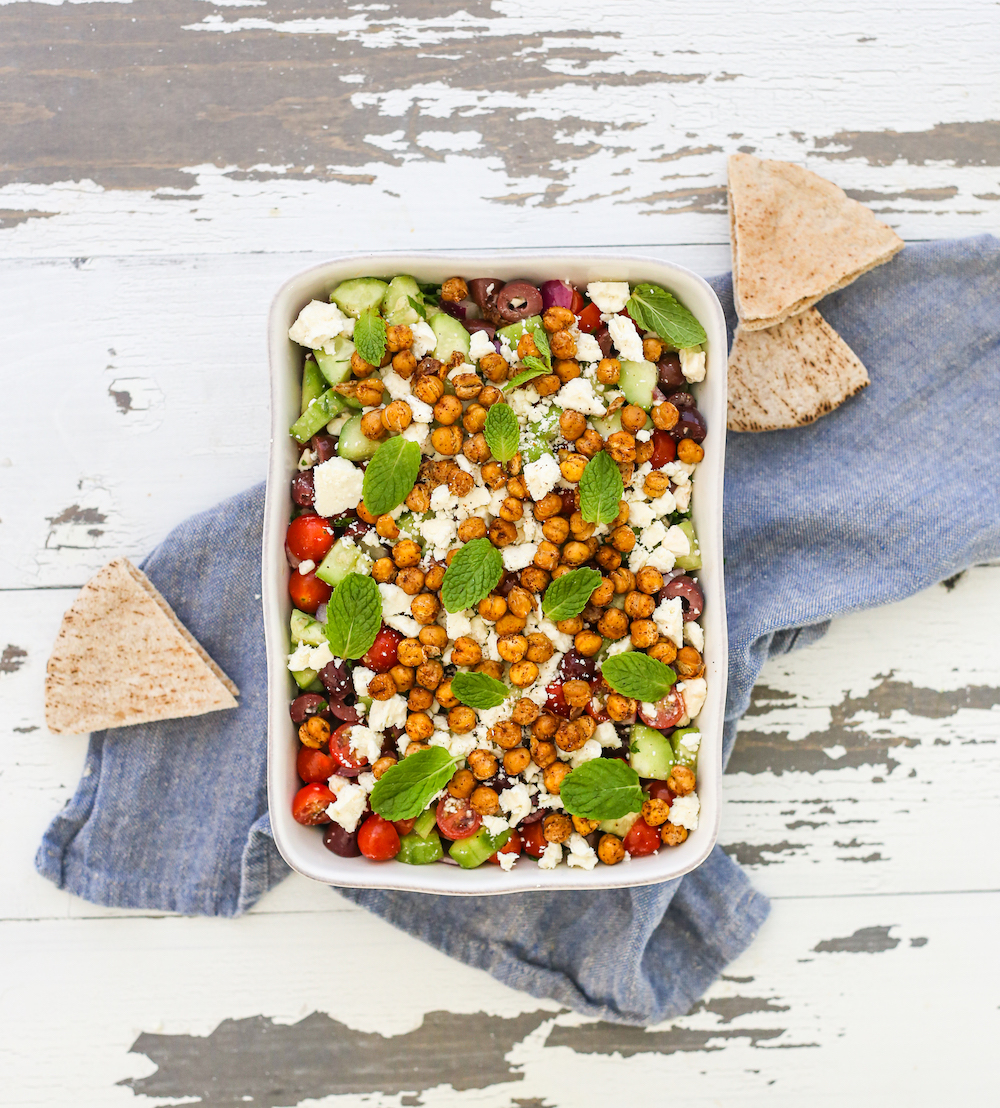 Instructions
First, roast the chickpeas. Preheat oven to 400F. Drain, rinse, and dry the chickpeas. Spread them evenly on a baking sheet and season with olive oil, salt, pepper, and paprika. Bake for 25-30 min, then stir and cook for another 15-20 minutes. (Note: you can also roast them in an air fryer for about 10 minutes).
While chickpeas are roasting, make the tabbouleh salad. Cook or soak the bulgur as packaging instructs.
Finely chop the parsley by hand or with a food processor. Add to a large bowl with chopped mint, cucumber, and onion.
Whisk together olive oil, lemon juice, garlic, and remaining salt in a small bowl. Add to the salad and mix so that all ingredients are well combined. Set the tabbouleh salad aside.
In a separate bowl, make the Greek salad. Mix all vegetables, top with feta cheese and a drizzle of olive oil, lemon juice salt, and pepper. Mix and set aside
Spread the hummus evenly across the bottom of a large serving dish.
Spread a layer of aubergine spread or baba ghanoush on top of the hummus.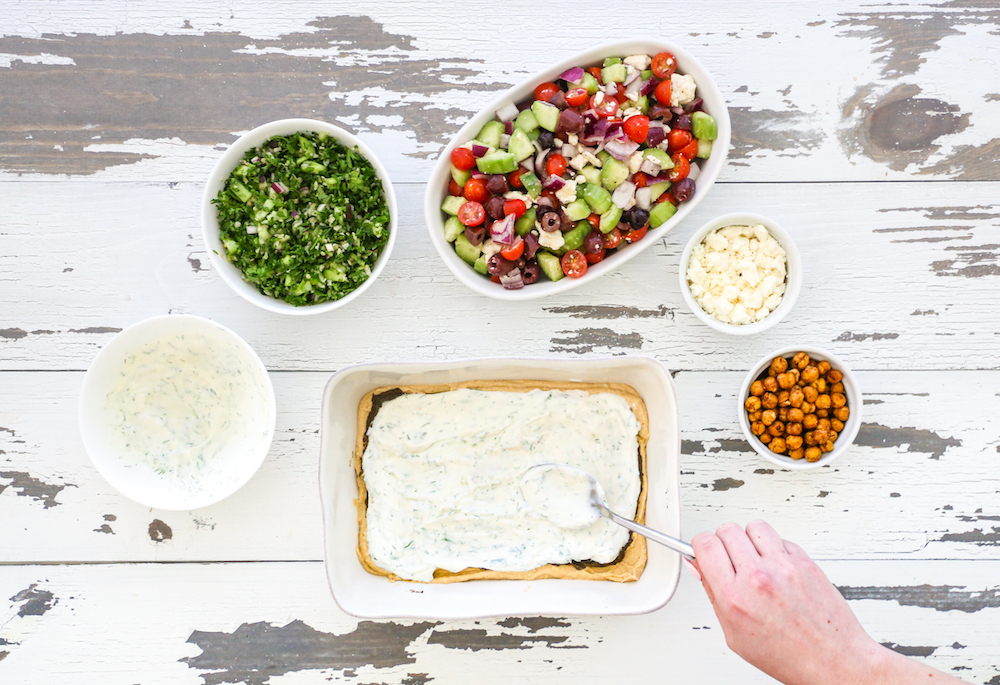 In a bowl, mix the Greek yogurt, dill, and lemon juice. Spread the yogurt mixture over the hummus.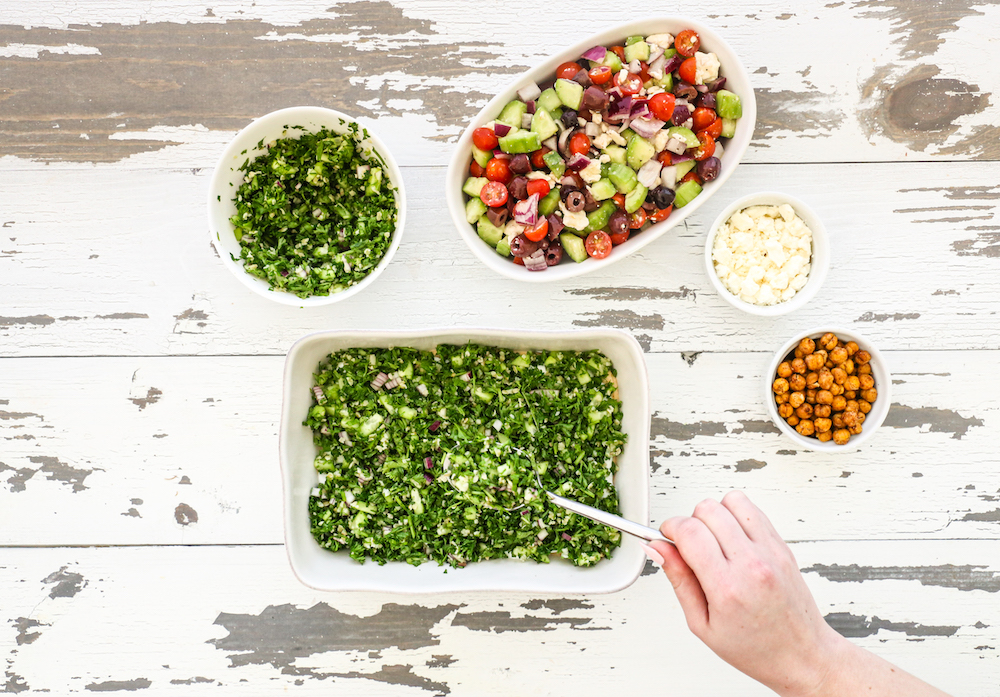 Next, add a layer of tabbouleh salad and spread it evenly across the yogurt mixture.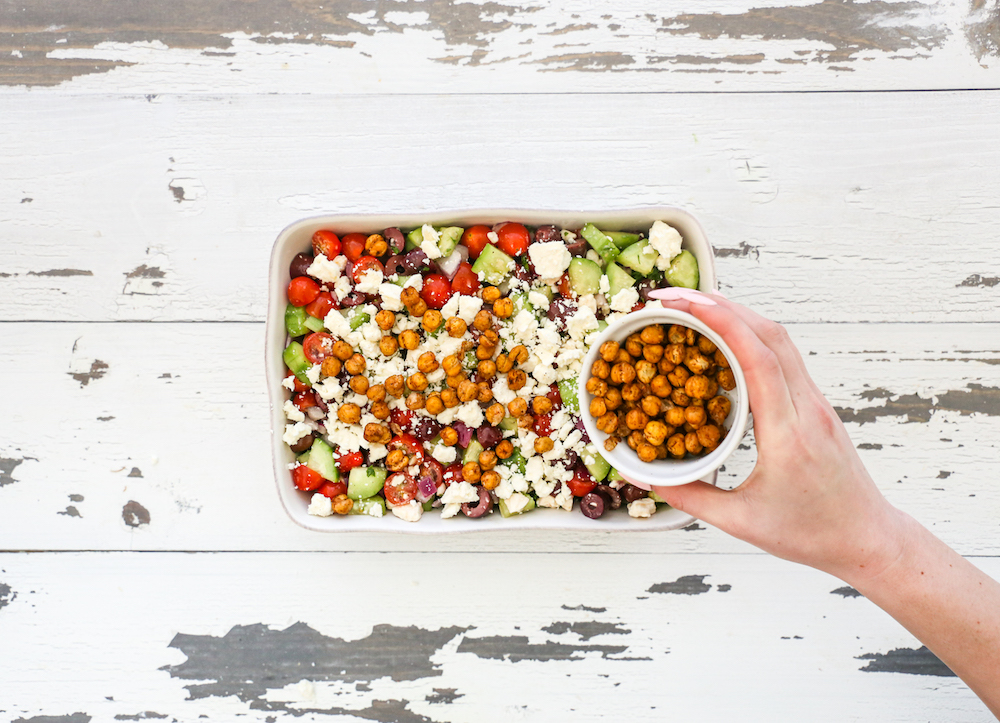 Then add the Greek salad. Top with a layer of crumbled feta and chickpeas.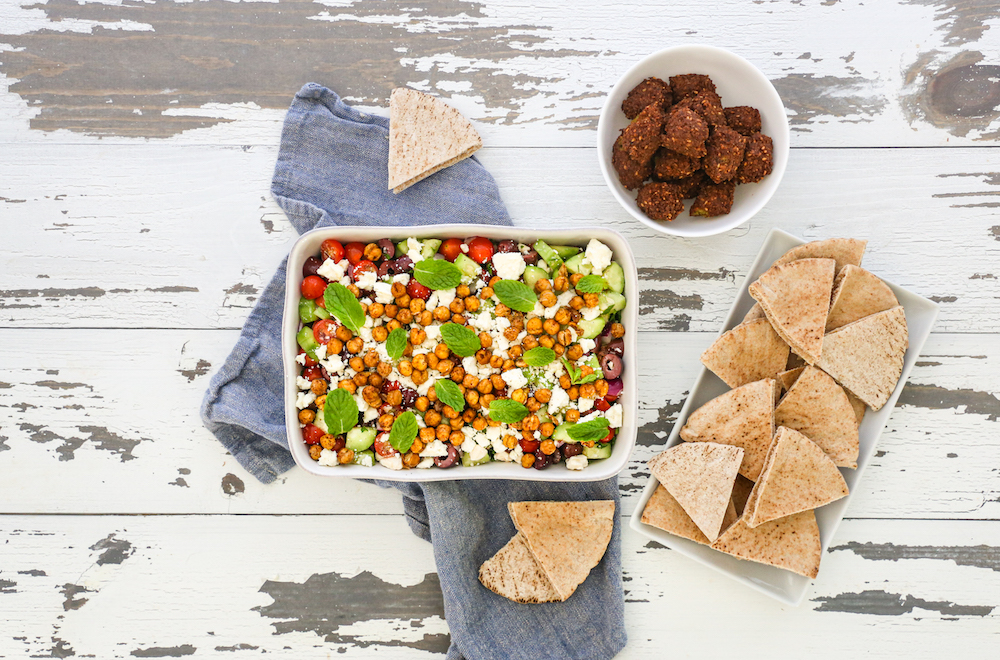 Serve with pita bread, pita chips, and/or falafel!
Pass the pita and call it the MVP of the day! Looking for other healthy game day recipes? We've got Nacho Average Nachos, and Jalapeño Poppers that might be a bigger conversation than the game itself.