Water workouts are typically on the gentler side of the fitness spectrum, but that's not the case with the Bay Club's new GlideFit program. GlideFit isn't your grandmother's water aerobics class—it's a wildly challenging water workout that requires incredible strength—and New Zealand's All Blacks Sevens love the class too! The 45-minute routine takes place in a pool and involves a special floating board that students balance on. It's comparable to working out on a boat, but a boat with a unique floor that rocks back and forth underneath you. If it sounds crazy, that's because it is! It's also a fun and fabulous workout. Interested in trying it out? Here's what you need to know before you do.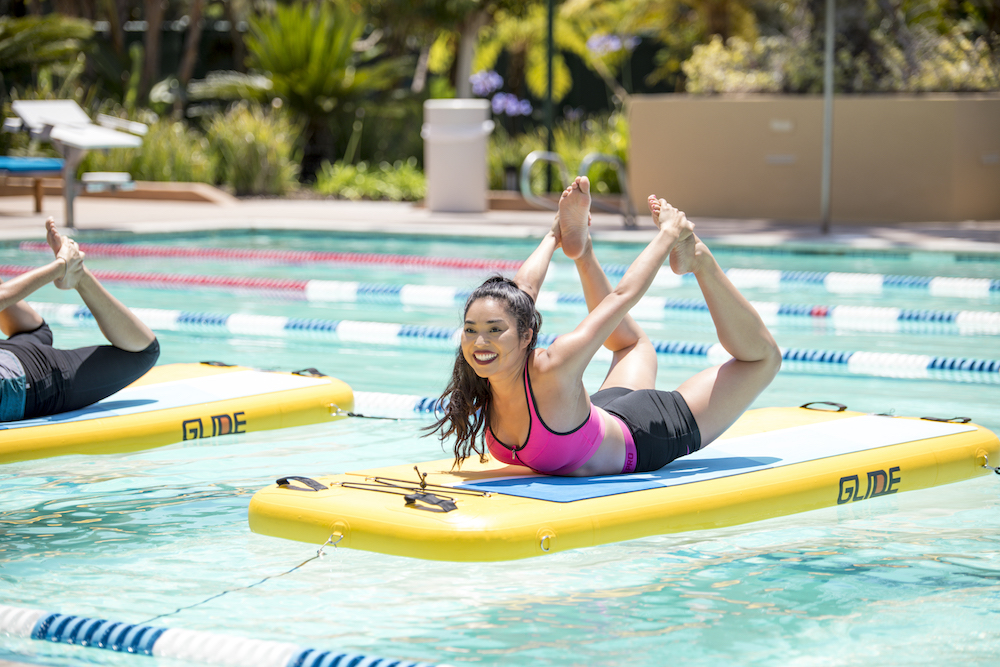 The class involves a particular piece of equipment. Known in the GlideFit world as a "deck," this rectangular board is crucial to the workout. It's similar to a stand-up paddle board, but smaller and softer. The deck floats on top of the water. One can stand, kneel, and sit on top of it. For the GlideFit class, each deck is placed in between one of the pool's lanes. The board connects to the lanes with bungee cords—this ensures that the board doesn't float uncontrollable around the pool. It does not, however, make the workout easier.
There are two types of GlideFit classes. GlideFit Sculpt is along the lines of a traditional high-intensity interval class. It involves standard movements like squats, lunges, burpees, and mountain climbers. Instead of performing these exercises on the ground, they are done on top of the deck that floats in the water. The second class is GlideFit Yoga. It's a yoga class that takes place on the deck floating in the pool. Each class type starts with an introduction to the equipment followed by a short warm up. Then it's the workout, cool down, and a quick stretch—all on the board in the pool. The instructor is out of the pool so that students can see what he or she is doing. Up to ten students can take class.
Yes, it is very hard, but you can do it. GlideFit requires an incredible amount of core strength. As you do the movements—whether it be a deep lunge or a warrior pose—you must also keep the deck stable and steady or else you will fall into the water. To master GlideFit, be prepared to take multiple classes. Before you perform a basic move like a lunge on the deck, you'll need to learn how to balance and stabilize yourself on the board. And this takes practice. Resistance bands can be attached to the board and used to execute movements that isolate specific body parts. Think bicep curls, rowing in boat pose, or tricep extensions. While it may sound scary, each class is welcoming to all levels, beginners new to the board and GlideFit veterans.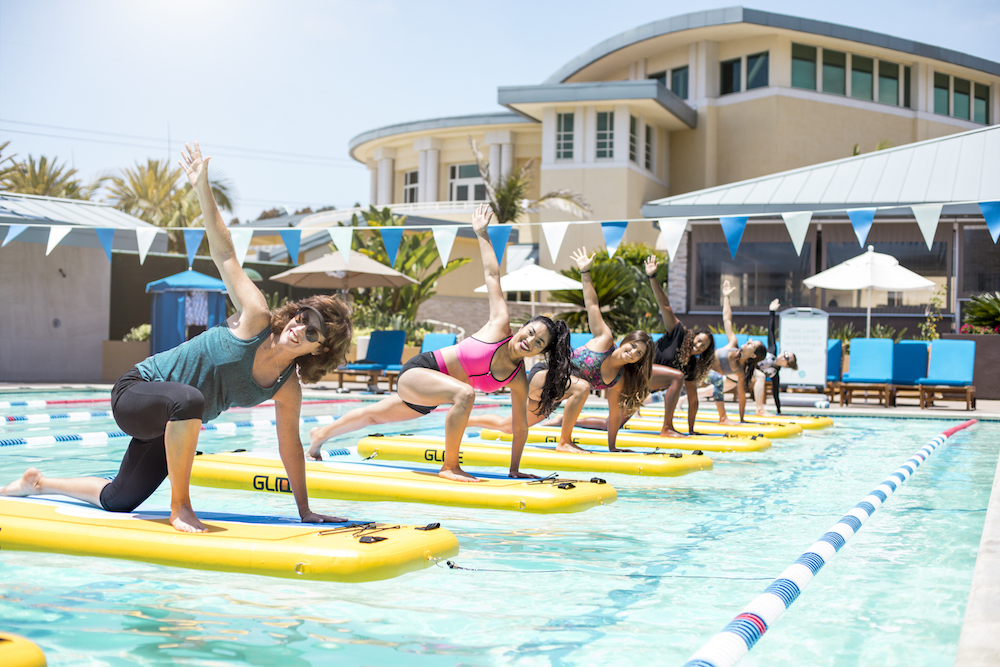 Workout clothing is recommended. GlideFit can be grueling and you'll be jumping on and off the board (yes, that means you will get wet). You don't want to be in a bikini when doing these movements. The Bay Club's GlideFit specialist, Johanna Godinez suggests that members wear regular fitness clothes, like Speedo shorts or three-quarter length leggings.
It requires an open mind. Think back to when you took your first yoga class. It was intimidating, right? You didn't know the poses, movements, or terms. GlideFit will be similar to this experience. Jump in that pool with an open mind and keep going—your body will start to make sense of the workout. The cool thing about GlideFit is it's a workout that keeps you present. You can't compose emails in your head while trying to balance on one leg on a floating board!
It's gentle on the body. Like other water workouts, one of the benefits of GlideFit is that you're not shocking your joints with hard impact. It's a full body workout, but the board is soft, and the water allows your body to compensate in different ways than it would on land.
Interested in taking GlideFit? GlideFit is now available at Bay Club Gateway, Santa Clara, Courtside, Redwood Shores, Carmel Valley, and Fairbanks Ranch—find it on the class calendar!