Fitness is important during all chapters of life. Whether we feel like exercising or not, the research shows that no matter what age or physical condition we're in, moderate exercise boosts mood and physical health, plus lowers our risk for developing diseases later in life. And pregnant women are no exception. Though rest and relaxation are also key ingredients to a healthy pregnancy, regular exercise has been shown to relieve physical stress (hello, tight hips!), promote better sleep (because pregnancy insomnia is really a thing), and stabilize emotional states when we might be feeling a little…hormonal.
The good news for mamas-to-be is that the Bay Club has plenty of pregnancy-friendly classes to help you stay active in the first, second, and third trimesters. Whether you're looking for cardio, a good stretch, or a way to maintain your strength, we've got classes that will motivate you throughout your pregnancy.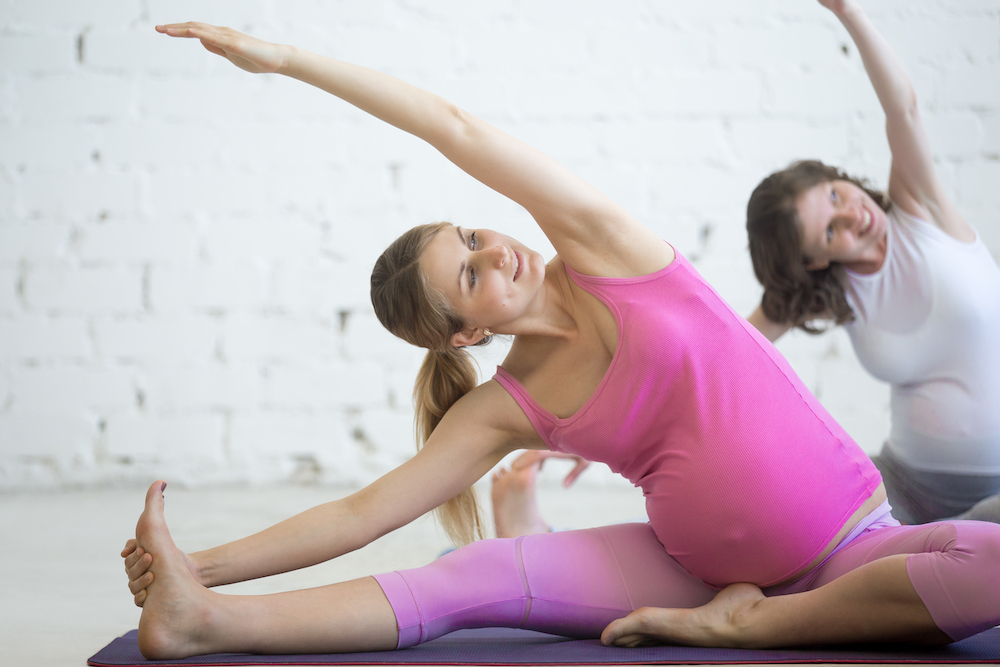 Vinyasa Yoga: Prana Vinyasa, Vinyasa Flow Levels 1,2,3, Alignment Vinyasa
Vinyasa yoga is a great form of exercise because it's low impact, full of stretching, and faster-paced. Many pregnant women find it difficult to squeeze in some cardio that's not high impact or too challenging, and Vinyasa is a great solution. With a faster flow and a steady breath, you'll probably break a sweat and get a great stretch in one of these classes. The best part is that we have levels 1,2, and 3 of Vinyasa-style yoga, so you can choose the class that's the right level for you.
Pregnancy-safe tip: We recommend taking any hip stretches easy (since pregnant mamas have a heightened level of the hormone relaxin, and you don't want to hyperextend anything). And…if you attend a more advanced class, please no headstands or handstands!
TRX & TRX Fusion
TRX is great for building strength with the help of a stable support system. The benefit to utilizing your body weight is that you can do almost any move with a TRX band while pregnant, without worrying that you'll overdo it or lose your balance.
Pregnancy-safe tip: Some TRX ab movements won't be safe for pregnant women (no crunching!) but you can put your feet through the stirrups to hold a plank position for a safe core workout.
Barre: Fusion, Strong, Total Barre & Body
Introduced at the Bay Club by popular demand, Barre is popular among our pregnant and non-pregnant members alike! Blending disciplines of Pilates, dance, and isometric movement, Barre will help mamas-to-be tone and sculpt small muscle groups without loading too much weight on. It's also great for practicing your balance in the third trimester—which can get a little wobbly carrying a baby the size of a watermelon.
Pregnancy-safe tip: Use that bar for support! Don't be shy about using the support of the bar to lighten the intensity of a movement, or to help you with balance when you're further along.
Cycling: STAGES Flight, Rhythm Ride, Indoor Cycling, Road Ride
This one may sound a bit controversial, and we agree there are limits to the merits of cycling during pregnancy. However, many experts say cycling can be a safe form of cardio for women, as long as we're smart about it. The motion of peddling is great for circulation, and the exercise itself is zero impact. Plus, there's virtually no risk of falling off a stationary bike (unlike a road bike.)
Pregnancy-safe tip: Drink lots of water and don't overexert yourself. As a rule of thumb, you should be able to have a small conversation with someone without being too out of breath (not that we encourage you to chat up your neighbor on the bike!)
Find a pregnancy-friendly class at your club on the schedule here.