You know the motivation you feel when you meet someone exceptional? Maybe that person just completed an Iron Man, or masterminded a scientific breakthrough. But sometimes the accomplishments of the person who inspires you are a little subtler (though no less impressive). For us, our very own Karen Gordon, personal trainer at Rolling Hills and full-time single mom, amazes us with her can-do attitude and passion for what she does. We have a feeling Karen will motivate you, too!
Starting the Day with Balance…and Breakfast
Karen can't expect much peace and quiet during her days—so she starts her mornings with some personal solitude. "I do a few yoga stretches in bed and repeat affirmations that vary according to how my week is going and what I'm feeling reassurance in," she says. She'll also listen to an audiobook or guided meditation before getting ready for the day and waking up her 9-year-old son, George.
"I am a single mom (and the only parent) of George, along with our adopted dog, Dude." Karen, George and Dude kick the day off with a healthy breakfast! "I usually make eggs and bacon for me, or a protein shake and a nut bar (the Perfect Bar), and eggs, bacon and something else for George, like a piece of gluten free toast or a fruit," she says. As a fitness and health-food lover, Karen stays committed to healthy food for both she and George. "We don't eat gluten, dairy, or refined sugar."
The Race to School and to Work
After giving Dude a short walk and packing George's lunch, Karen and George race the clock to get George to school on time, which she admits is sometimes a failed mission. Then Karen hustles to the Bay Club, which is thankfully nearby, to start her day with her clients.
"I start working with my first client at 9:00 am. I usually train 6 to 9 clients each day," she tells us. She also teaches the Battle class on Fridays at 9:00 am, adding "I like to have high energy for that class!"
Her Approach to Working with Clients
"I am from Brazil, so a lot of times they come to me to build a booty," she laughs. So it's fitting that her two favorite exercises are hip thrust (all kinds of variations) and stiff leg deadlift, both using a ViPR to add weight. Karen specializes in strength and functional training, corrective exercises, body shaping and weight loss, and most of her clients are females.
"I help my clients to set their goals by understanding the reason why they have those goals, and I help them achieve their goals by holding them accountable."
 She also believes in a holistic approach that includes not only physical training but also nutrition education and mental dedication. "I get them excited, I help them to understand food and how important that is if you want to change your body's composition, and that fitness and diet should become part of their lifestyle so they can easily sustain that in the long haul."
"I then base my approach around their goals and draw a program considering their limitations, health conditions, different schedules and goals."
Practicing what she preaches
It's not surprising that Karen's own habits mirror those that she helps her clients develop. Her nutrition is pretty disciplined but also balanced, and lunch and dinner are always nutritious.
"Lunch is usually leftovers from dinner plus some sort of starchy carbohydrate, like sweet potato or white rice. Dinner is always lighter than lunch: chicken, asparagus and guacamole; or salmon and Brussels sprouts; or turkey and zucchini. I also have raw spinach with lunch and dinner most of the days, and I don't change much."
"I also try fasting once a week for 24 hours, but I am not strict about it. I don't follow any philosophy, but I watch my portions and try to only use food to nourish my body and sustain my fitness and health goals." She does confess to having a deep love for vanilla ice cream.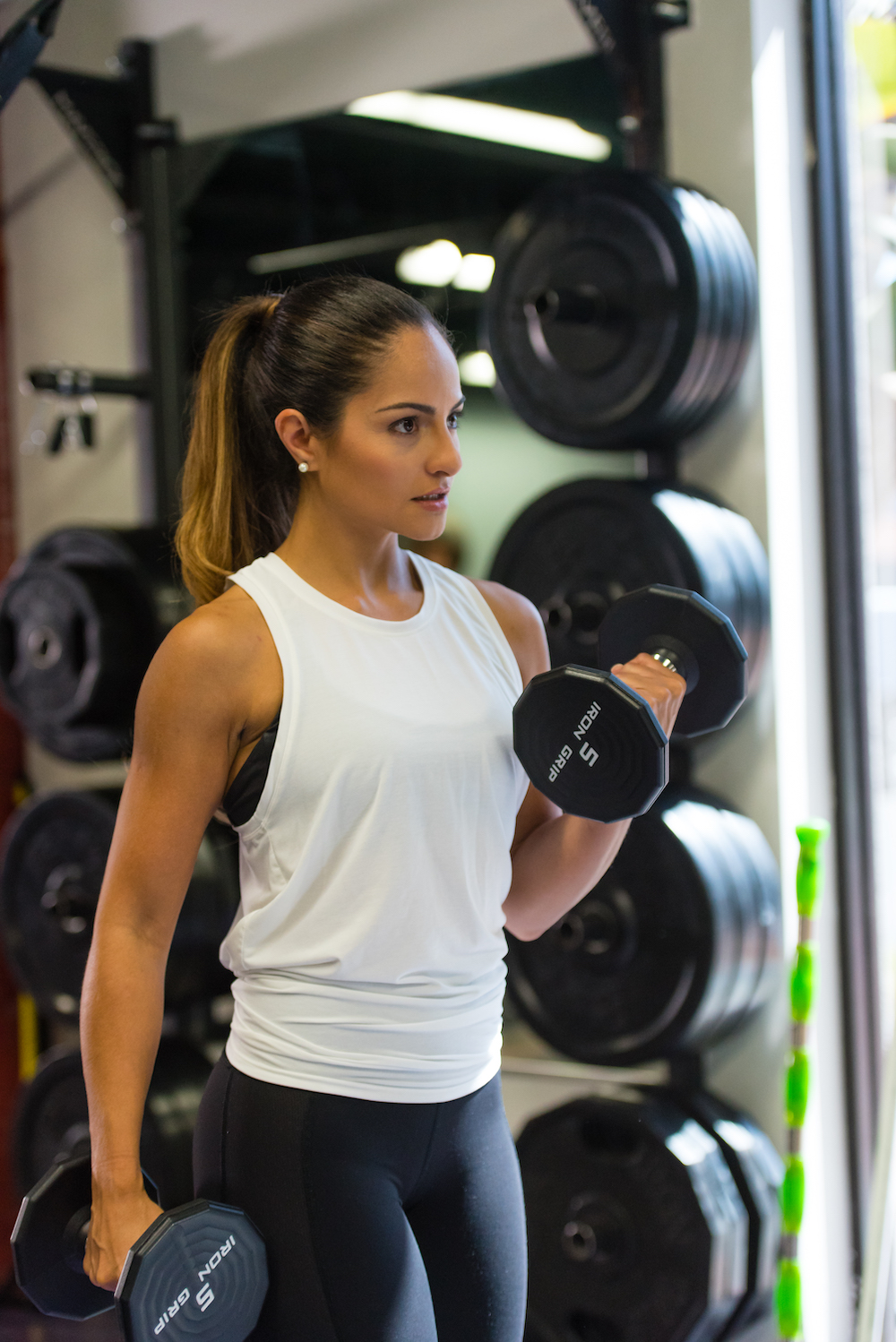 Her passion for her job makes every day interesting
"I absolutely love what I do because I get to change people's lives," she says. "Helping someone to lose weight, to eat better, to move better, to shape their bodies and watching their confidence growing in the process give me a magical feeling…it's very rewarding."
Karen also values having a unique connection with all her clients, and she's committed to supporting their health journeys outside the gym too. "I am always reachable and supportive," she says.
Her day isn't done when she leaves the Bay Club
Though she'll try to get in her own workout before leaving the Bay Club for the day, it's not always possible. "If it's too late I might train myself at home," she adds.
Then she's off to the races again, rushing to pick up George from his after-school program. We love the image of Karen swooping in to pick up her son, music going, energy high. "I always have music on," she says. "Music is a huge part of our day. I listen to it as much as I can.
At home, Karen walks Dude, cooks dinner with George, helps him with his homework, and gets him ready for bed. Then she returns to her Bay Club work (we couldn't believe it either!)
"I like to text my clients, go through their programs, do some prep for next day, clean up the kitchen (or not! and then sit down to relax." Just as we think Karen is about to say she climbs into bed, she continues, "Sometimes I have a glass of wine, read a book, paint or play the guitar, or meditate. I also can't go to bed without a shower, so I do that right before I get in bed."
Before she closes each day, she takes the time to feel gratitude for someone or something in her day, or reflect on a lesson that an experience taught her. "Then I close my eyes, ideally around 11:30, and start all over again next day!"
Interested in working with Karen to meet your health goals? You can connect with her here!