No one loves a crafty DIY more than us! And in celebration of the holidays, we're featuring a five-part series on kid-friendly projects that you and your family can do together. From silly to sweet, these make-at-home creations are perfect for gifting, decorating, or gobbling up! Today's DIY takes its inspiration from the classic popcorn string of lights—remember making those (and then eating most of your supply)? Our DIY ornaments can be hung from the tree, the mantle, or even given to a teacher or friend as a thoughtful, homemade gift. So roll up your sleeves, grab the glitter, pinecones (yes, really!), and pom poms and get ready for the holiday spirit to kick into high gear. Bonus: We recommend putting on a good holiday playlist to whistle while you work!
Pom Pom Pinecones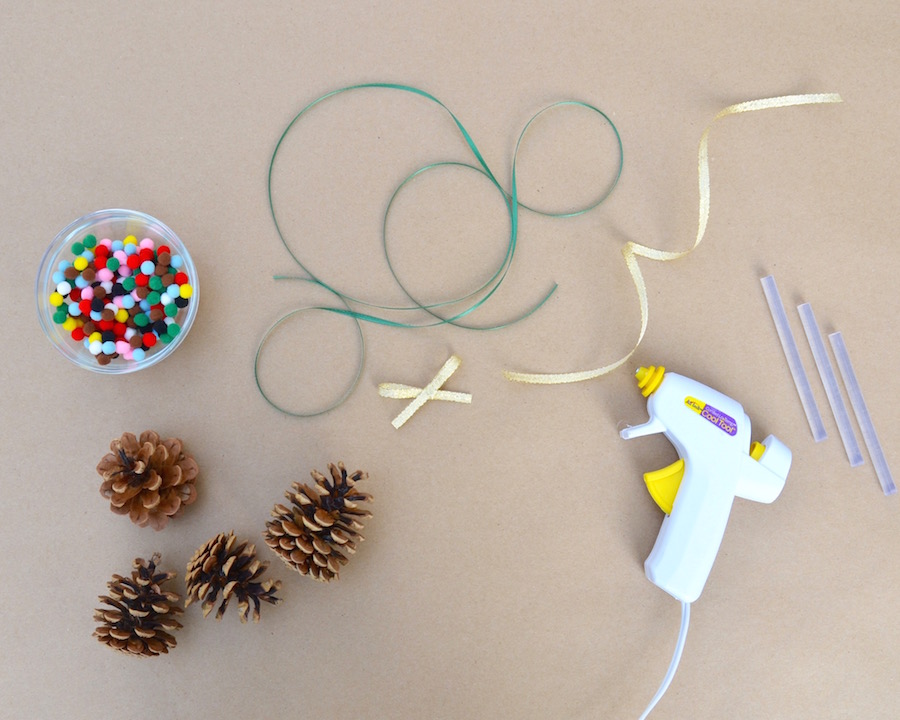 To make pom pom pinecones, you'll need: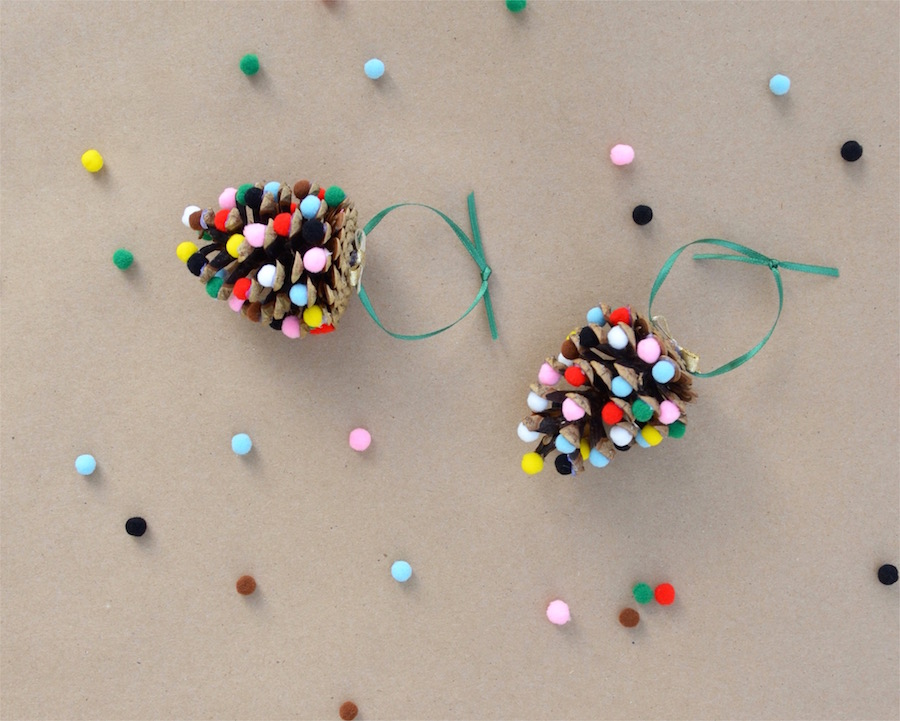 Instructions
Using your hot glue gun, add a dab of glue to a pinecone "branch" on the side facing the pointy pinecone end. Affix a mini pom pom onto the dab of glue, and repeat for every "branch" you can add a pom pom to. (Parents might want to handle the hot glue gun, but the little ones can add the pom poms!)
Once you've added the pom poms to your pinecone, cut a strand of ribbon and tie it so it makes a loop long enough to hang your ornament. Using the hot glue gun again, attach the ribbon to the flat part of the pinecone. Then take a second piece of ribbon and tie a small bow. This bow can be attached to the pinecone with hot glue, covering where your ribbon was attached.
Then, add your ornament to the tree!
Originally from One Little Project.
Glitter-Dipped Ornaments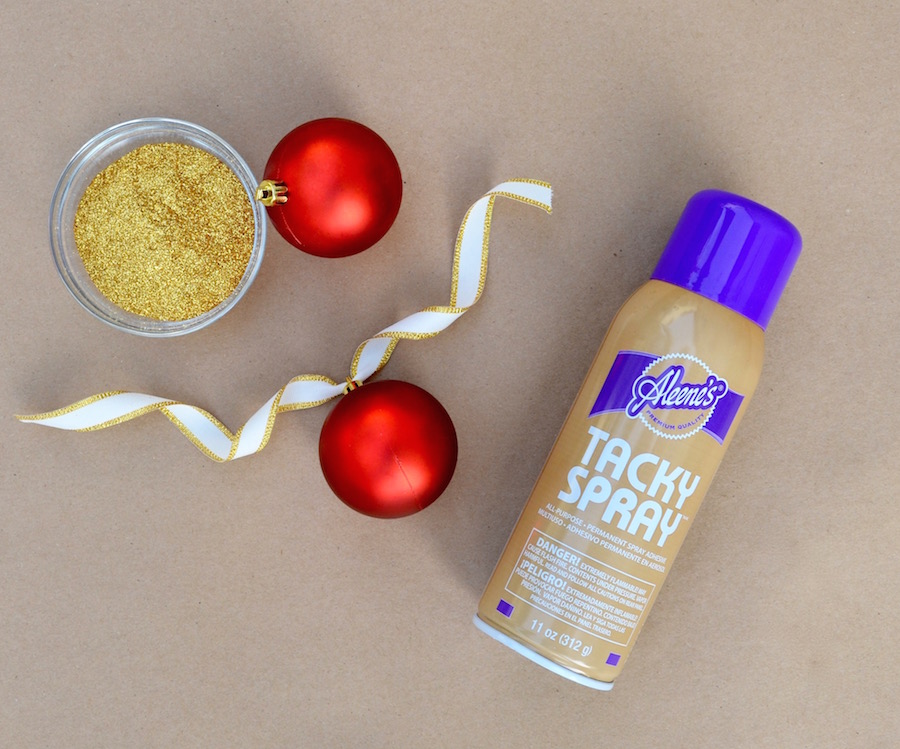 To make glitter-dipped ornaments, you'll need:
Glitter (any color)
Plain, solid color ball ornaments
Ribbon
Painters and masking tape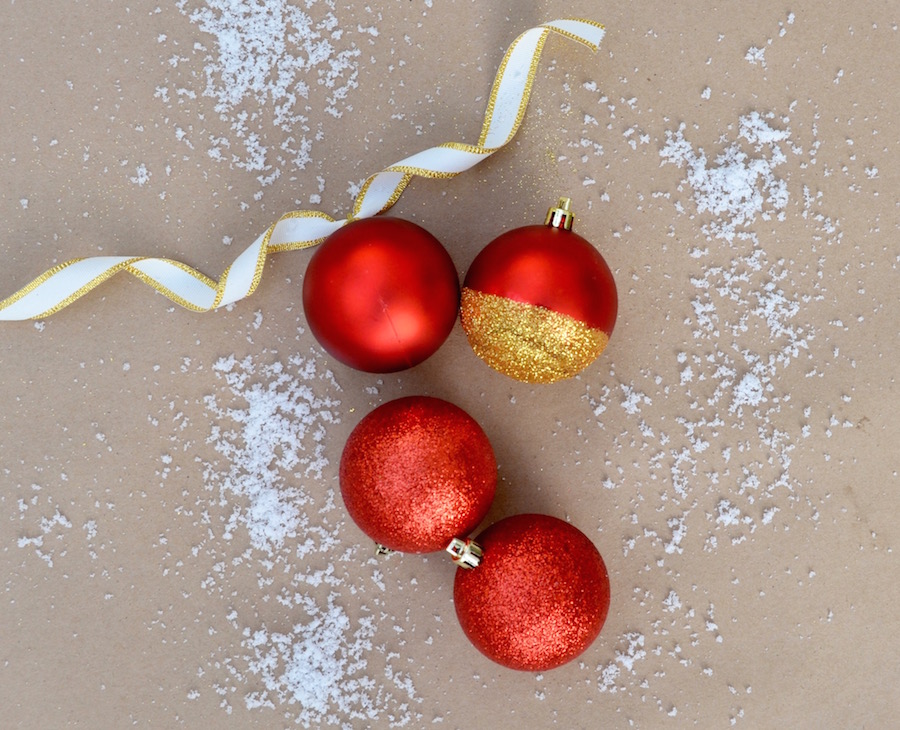 Instructions
Add your glitter to a bowl big enough to dunk your ornament, and prepare your ornament by covering any part you don't want covered in glitter with painters or masking tape. Or leave your ornament uncovered for a full glittery effect.
Using the adhesive, spray the uncovered parts of your ornament. Immediately dunk your ornament in a bowl of glitter to cover the surface with sparkles. Let dry.
Next, string a ribbon through the eye hole at the top of the ornament and tie a loop.
And finally, add this something sparkly to your tree!
Inspiration from By Stephanie Lynn.